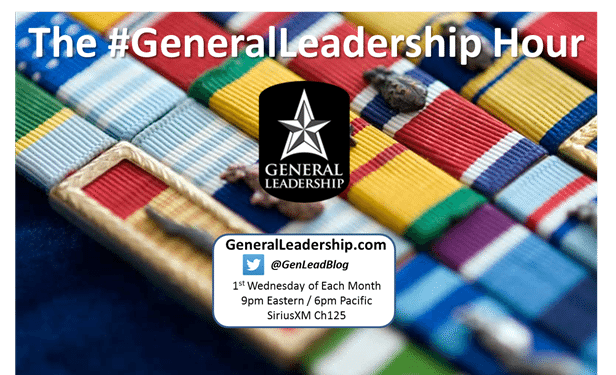 Turn your radio dials to SiriusXM Channel 125 tonight at 9pm Eastern (6pm Pacific) for the #GeneralLeadership Hour on the David Webb Show!  On the first Wednesday of every month, we strive to bring you the opportunity to engage with our team and our guests virtually and on-the-air with the radio program and live Twitter stream.  You can interact live with our hosts David Webb, General John E. Michel, and Colonel Matthew T. Fritz, as well as our special guests.  Join in the conversation by tuning into SiriusXM Channel 125, following along on Twitter (#GeneralLeadership and #DavidWebb), or call in to the show by dialing 866-957-2874!
Tonight's special guests include
Mr. Fred Salanti

National Executive Director & President of the Missing in America Project
501(c)3 No-Profit Mission: locate, identify and inter the unclaimed cremated remains of American veterans through the joint efforts of private, state and federal organizations. To provide honor and respect to those who have served this couny by securing a final resting place for these forgotten heroes.
Website: http://www.miap.us
Stats: 13,990 cremains found; 3,151 cremains identified, 2,877 cremains interred since 2007

Colonel Mickey Addison, USAF

Contributing author at the General Leadership Foundation and currently stationed at Hickam AFB, Hawaii as the Commander of the Air Force Installation and Mission Support Center Detachment 2 where his mission is to synchronize and execute installation and mission support for Pacific commanders
Posted his "Dynamic Dozen" series, most recently "People Need a Purpose, Not Just A Paycheck"
Author Bio:  Learn more at mickeyaddison.com
How did you enjoy today's post?
If you liked what you read, sign up for our frequent newsletter by clicking HERE — and you'll also receive our handy Leader's Reference List
as our free gift to you!