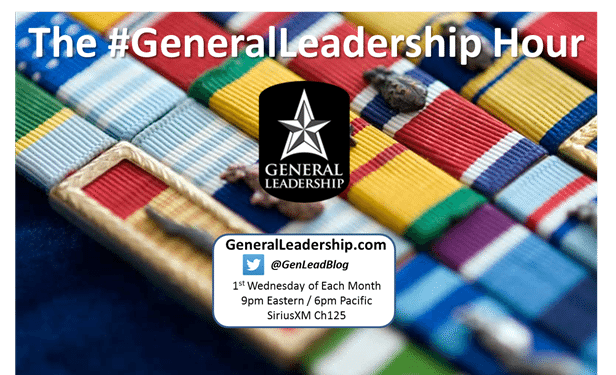 Turn your radio dials to SiriusXM Channel 125 tonight at 9pm Eastern (6pm Pacific) for the #GeneralLeadership Hour on the David Webb Show!  On the first Wednesday of every month, we strive to bring you the opportunity to engage with our team and our guests virtually and on-the-air with the radio program and live Twitter stream.  You can interact live with our hosts David Webb, General John E. Michel, and Colonel Matthew T. Fritz, as well as our special guests.  Join in the conversation by tuning into SiriusXM Channel 125, following along on Twitter (#GeneralLeadership and #DavidWebb), or call in to the show by dialing 866-957-2874!
ABOUT TONIGHT'S GUEST:
This month, during our show on January 6th, our special guest will be Leslie Robinson, the inventor of the interactive card deck Warrior Spirit / Mission Homefront and Warrior Spirit / Mission Homefront for Couples, Leslie is a psychotherapist with a private practice in New York City and she has been a Consultant for the foster care system for seventeen years. Leslie is the CEO and Founder of Trance4mation Games and the President and Founder of the non-profit, Trance4mation Nation, Inc.
Leslie has been a Program Director for programs for at-risk youth in the South Bronx, for six years created and implemented long-term intensive arts and after-school programs in inner city schools for at-risk youth, developed and led staff development trainings in creativity, and for two years pioneered a poetry project at Rikers Island Correctional Facilities for Men and Women. She has also supervised residences for homeless young adults, worked in homeless shelters, worked in an emergency shelter for runaway youth, and has been an adjunct literature and writing Professor at the College of New Rochelle. Leslie graduated Summa Cum Laude with a Masters Degree in Creative Writing.
Leslie has recently been facilitating highly lauded workshops on leadership development, communication, diversity and inclusion, first generation, team building, anti-bullying peer to peer mentoring, reintegration and service learning on college campuses nationwide. She has also been a presenter at a number of military events and conferences.
As an experienced group leader, Leslie has been in the position to launch Warrior Spirit / Mission Homefront in numerous military settings. She recently facilitated a workshop with eighty-five wounded soldiers at Westpoint Academy, two couple's events at Ft. Hamilton, a three-day retreat with fifty female combat Service Members, past and present, on college campuses, with one hundred Service Members, past and present, at Camp Smith, etc.  Leslie's areas of expertise are: Reintegration, Communication, Leadership Development, Team Building, Staff Development, Self Development, Community Building, Positive Relationships and Diversity.
ABOUT TONIGHT'S RADIO SHOW:
Leslie Robinson is proud to be working squarely on the cutting edge of some of the foremost concerns of our time: Veteran Reintegration, Prison Reentry and Diversity and Inclusion. She has created first of a kind healing tools which provide people with the opportunity to have some of the most impactful conversations of their lives as they reflect together in unique, healing and transformative ways where there would ordinarily be aching silence. These communication "games" create new pathways for trust and connection through the creation of safe spaces in which we honestly encounter one another while moving through our differences to get to common ground and genuine connection, provide a deep and real experience of one another, and move us beyond the polite small talk to a rich, nuanced experience of one another. They are proven to reduce alienation, isolation, depression and prejudice and are embraced by even the most resistant people.
GAME DESCRIPTIONS:
Warrior Spirit Mission Homefront (www.missionhomefront.com) has two versions. One version is specifically designed for Peer to Peer and Family interaction, and the other version is designed for the military Couple. These elegant evidence- based interactive card decks which contain 400 questions as well as fun interactions, provide a vital opportunity for Veterans to communicate, process, share and own their unique experiences of deployment, as well as to reconnect and reclaim their relationships. Each question or interaction is an opportunity to allow the Service Member to tell their story, build trust and let their defenses dissolve. Warrior Spirit has proven to offer refuge, hope and healing to those who have so courageously and faithfully served our country. It is presently in use across all branches of the military nationwide. Leslie was recently honored by ringing the closing bell at NASDAQ in honor of Warrior Spirit. http://youtu.be/F0TG6qtT_wI
Recharge Beyond the Bars (www.rechargethegame.com) has two versions. One version is specifically designed for Re-entry for those soon to be released, as well as for formerly incarcerated people and their families. The second version is for use inside of prisons and jails for those individuals who have a significant amount of time left to serve, and for lifers. These elegant interactive card decks which contain 400 questions and fun interactions are the world's first product designed specifically to aid the emotional, communication and social struggles of incarcerated and formerly incarcerated men and women. There are presently 2.4 million people incarcerated in America. Approximately 688,000 people are released each year. Most return feeling alienated and isolated from their families and communities. Recharge brings connection, communication, peace, comfort and healing. Recharge is presently in use in 19 States throughout the U.S. in re-entry programs in and outside of prisons, mentoring programs, work release programs, by cognitive-behavioral therapists, in prison literacy programs, life skills programs, by families, in prison visits, by church and faith-based organizations, in classrooms, halfway houses, substance abuse programs, community corrections, citizen circles, by employment specialists, social workers, etc. Recent Recharge television interview – https://www.youtube.com/watch?v=lPuJBU8CHeI
The Keep It Real Game (www.keepitrealgame.com) – for ages 14+ is the ultimate game of CONNECTION. This bold, outrageous, colorful board game removes barriers between people and builds bridges, while embracing our common ground as a human family. Players form genuine connections across racial, class, religious, ethnic, age and ALL divides while they grow in compassion, empathy and understanding. The Keep It Real game helps players dream, share, imagine, feel, care, and be more of who they really are with one another. It is presently in use at over 1,000 colleges and Universities, hundreds of Boys and Girls Clubs, and youth organizations nationwide.
How did you enjoy today's post?
If you liked what you read, sign up for our frequent newsletter by clicking HERE — and you'll also receive our handy Leader's Reference List
as our free gift to you!