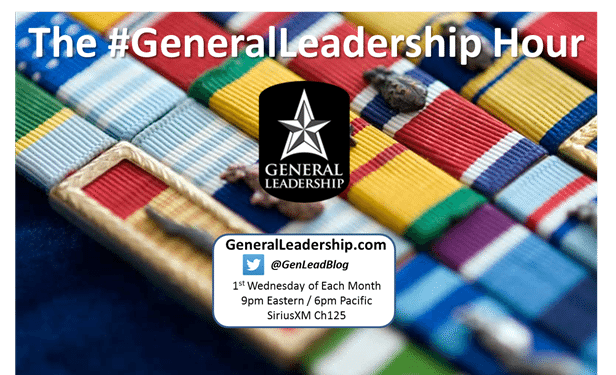 Turn your radio dials to SiriusXM Channel 125 tonight at 9pm Eastern (6pm Pacific) for the #GeneralLeadership Hour on the David Webb Show!  On the first Wednesday of every month, we strive to bring you the opportunity to engage with our team and our guests virtually and on-the-air with the radio program and live Twitter stream.  You can interact live with our hosts David Webb, General John E. Michel, and Colonel Matthew T. Fritz, as well as our special guests.  Join in the conversation by tuning into SiriusXM Channel 125, following along on Twitter (#GeneralLeadership and #DavidWebb), or call in to the show by dialing 866-957-2874!
Tonight's Special Guests Include:
Dedee Lhamon (Twitter: @ddlhamon). Founder and Executive Director of The Covering House (http://thecoveringhouse.org)
The Covering House©, located in St. Louis, Missouri, provides refuge and restoration, using the least restrictive environment, for sexually exploited and trafficked children and teens, providing safety, dignity, and freedom utilizing top level staffing and oversight.  For the past five years, Dedee has devoted herself to establishing The Covering House by networking with other agencies in the community to provide services to girls who are survivors of sexual exploitation and sexual trafficking. Prior to working with The Covering House, Dedee worked as a communications consultant where she provided communication training to both management and staff by utilizing in-service training, one-on-one coaching, focus group research, and presentation development. Dedee holds a Masters Degree in Communication from Illinois State University and a Bachelors Degree from Bradley University. She has taught speech communications courses at the collegiate level. Volunteers in Journey Kids and Response Team at her church The Journey.
J. Christian (Twitter: @protect), CEO of the National Association to Protect Children (PROTECT). Learn more at http://www.protect.org/articles/j-christian    J. was a member of the United States Army and served in United States Special Operations Command, within the 75th Ranger Regiment, 3rd Ranger Battalion and retired due to injuries sustained in combat.  The National Association to Protect Children is a national pro-child, anti-crime membership association. The association is founded on the belief that our first and most sacred obligation as parents, citizens and members of the human species is the protection of children.  PROTECT is a bipartisan pro-child, anti-crime lobby whose sole focus is making the protection of children a top political and policy priority at the national, state and local levels.
How did you enjoy today's post?
If you liked what you read, sign up for our frequent newsletter by clicking HERE — and you'll also receive our handy Leader's Reference List
as our free gift to you!