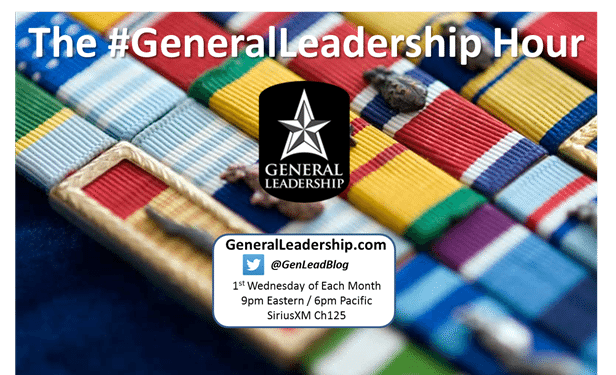 Turn your radio dials to SiriusXM Channel 125 tonight at 9pm Eastern (6pm Pacific) for the #GeneralLeadership Hour on the David Webb Show!  On the first Wednesday of every month, we strive to bring you the opportunity to engage with our team and our guests virtually and on-the-air with the radio program and live Twitter stream.  You can interact live with our hosts David Webb, General John E. Michel, and Colonel Matthew T. Fritz, as well as our special guests.  Join in the conversation by tuning into SiriusXM Channel 125, following along on Twitter (#GeneralLeadership and #DavidWebb), or call in to the show by dialing 866-957-2874!
This Month's Guest List Includes:
John Preston

We are proud to welcome back Iraq War veteran and musician, John Preston, who is releasing his new song, "Superman Falls" via our audience.  Through the Valkyrie Initiative, he has partnered with Pacific Records to produce the compilation album "Battle Cry: Songs of America's Heroes".  This album will feature many veteran and first responder artists such as Scooter Brown Band, Ryan Weaver, Dee Rock, Adam C Martin of Blackbird Anthem, John Preston and more!  100% of the proceeds from the album will go to The Valkyrie Initiative to help veterans and first responders with their complicated battles with PTSD.  John Preston's song "Superman Falls" will be on the album.  Today, the project release was launched and picked up by almost 180 news outlets.  This will probably be good—and we want to unveil his song "Superman Falls" first.

Ted Brinegar
How did you enjoy today's post?
If you liked what you read, sign up for our frequent newsletter by clicking HERE — and you'll also receive our handy Leader's Reference List
as our free gift to you!