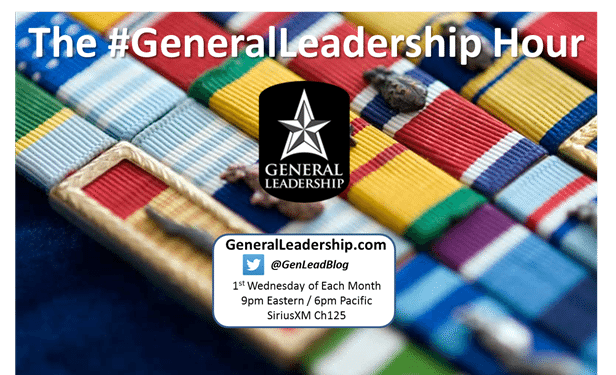 Turn your radio dials to SiriusXM Channel 125 tonight at 9pm Eastern (6pm Pacific) for the #GeneralLeadership Hour on the David Webb Show!  On the first Wednesday of every month, we strive to bring you the opportunity to engage with our team and our guests virtually and on-the-air with the radio program and live Twitter stream.  You can interact live with our hosts David Webb, General John E. Michel, and Colonel Matthew T. Fritz, as well as our special guests.  Join in the conversation by tuning into SiriusXM Channel 125, following along on Twitter (#GeneralLeadership and #DavidWebb), or call in to the show by dialing 866-957-2874!
This month's special guest will be the awesome folks from GOODPartners (http://www.GoodPartners.org) who are making a difference in communities by offering opportunity, innovation, and transformative programming.  Tune in to join us for this conversation!
How did you enjoy today's post?
If you liked what you read, sign up for our frequent newsletter by clicking HERE — and you'll also receive our handy Leader's Reference List
as our free gift to you!