The opinions expressed are solely those of our authors.  For more detailed information, please visit our Site Permissions & Policies page.
The engine-room of GeneralLeadership.com is fueled by its authors–the Senior Military Leaders who have dedicated themselves to providing leadership lessons that will take your performance to the next level!  Our Team of authors will grow over time, so be sure to check in regularly.  If you are a Senior Military Leader, consider joining our Team!
So far we've confirmed over 15 active and retired general officers from across the US Military services — all of whom are busily creating their articles for posting soon.   We expect full launch of this site very soon, so bookmark GeneralLeadership.com and check back often!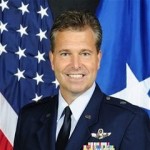 Brigadier General John E. Michel is a widely recognized expert in culture, strategy & individual and organizational change. An accomplished unconventional leader and proven status quo buster, he has successfully led several multi-billion dollar transformation efforts and his award-winning work has been featured in a wide variety of articles and journals, including the Harvard Business Review.
READ MORE ABOUT GENERAL MICHEL . . .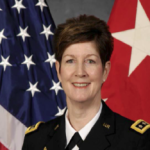 Lt. Gen. Kathleen M. Gainey retired as the deputy commander, U.S. Transportation Command, Scott Air Force Base, Ill. Her previous commands include 5th Heavy Boat Company, Ford Island, Hawaii; 6th Transportation Battalion, Fort Eustis, Va.; 7th Corps Support Group, Bamberg, Germany; Defense Distribution Center, New Cumberland, Pa.; and commanding general, Surface Deployment and Distribution Command, headquartered at Scott Air Force Base, Ill.
READ MORE ABOUT GENERAL GAINEY . . .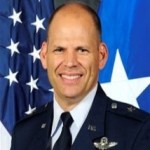 Brigadier General James Vechery is a loving husband and a devoted father of three who serves in the United States Air Force. Born and raised in Maryland. Jim attended the University of Maryland where he graduated and was commissioned in the Air Force in 1988. Brigadier General Vechery commanded the 912th Air Refueling Squadron at Grand Forks Air Force Base, North Dakota; 22d Air Refueling Wing at McConnell Air Force Base in Kansas, and the 60th Air Mobility Wing at Travis Air Force Base, California
READ MORE ABOUT GENERAL VECHERY . . .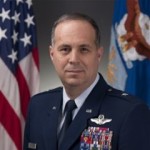 Maj. Gen. Jerry P. Martinez is the Director of Operations, Headquarters Air Mobility Command, Scott Air Force Base, Illinois. He is responsible for policy and procedures for worldwide air operations and transportation functions assigned to the command. These functions include worldwide cargo and passenger movement, aerial refueling, aeromedical evacuation, Civil Reserve Air Fleet, air traffic control, C4 support systems, aircrew training and standardization programs.
READ MORE ABOUT GENERAL MARTINEZ . . .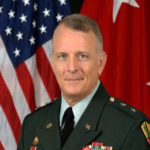 MG (Retired) Mike Diamond is CEO and President of Diamond Strategy, a leadership training and consulting organization focusing on improving the quality of leaders in organizations. He has commanded at every level in Army Logistical organizations, the 377th Theater Support Command (Fwd) following the ground campaign and also served 2 tours at US Central Command as the Deputy Director for Logistics and Director for Coalition Coordination. He has also held parallel positions in civilian organizations from supervisor to VP.
READ MORE ABOUT GENERAL DIAMOND. . .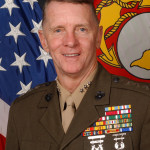 Lieutenant General Gary H. Hughey, USMC (Retired) served 35 years as a Marine Officer. His entire career was devoted to the art and science of Logistics. He retired in 2005 as the Deputy Commander, U.S. Transportation Command, Scott AFB, Illinois. His previous commands include: Deputy Commander, U.S. Forces Japan, Yokota AFB, Japan, Commanding General, Marine Corps Base Camp Smedley D. Butler, Okinawa, Japan, Commanding General, Third Force Service Support Group, Okinawa, Japan, Commanding Officer, Brigade Service Support Group – 1, Kaneohe, Hawaii, and Commanding Officer, Marine Amphibious Unit Service Support Group – 11, "somewhere in the Pacific".
READ MORE ABOUT GENERAL HUGHEY. . .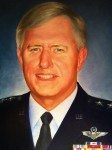 Gen (ret) Roger A Brady served for over 41 years in the U.S. Air Force and retired as Commander, US Air Forces in Europe in 2011. He advises industry, teaches, speaks and writes on principled leadership and leadership development. His recent writings include a daily devotional book, a volume on leadership and articles on sexual assault and keeping faith with the men and women who serve in our armed forces. He lives with his wife in Raleigh, North Carolina.
READ MORE ABOUT GENERAL BRADY…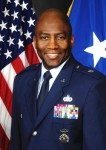 Brigadier General Allen J. Jamerson is the Director of Security Forces, Deputy Chief of Staff for Logistics, Installations and Mission Support, Headquarters U.S. Air Force, Washington, D.C. He is the focal point for ensuring the physical security of Air Force nuclear assets, and planning and programming for more than 40,000 Active-Duty and Reserve component security forces at locations worldwide. He provides policy and oversight for protecting Air Force resources from terrorism, criminal acts, sabotage and acts of war, and ensures Security Forces are trained, equipped and ready to support contingency and exercise plans.  General Jamerson entered the Air Force in 1986 and has commanded multiple times at the squadron, group, and wing level.
READ MORE ABOUT GENERAL JAMERSON…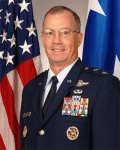 Major General Paul H. McGillicuddy retired as the Vice Commander, Pacific Air Forces, Joint Base Pearl Harbor-Hickam, Hawaii, and the Deputy Theater Joint Force Air Component Commander to the Commander, U.S. Pacific Command. PACAF is responsible for the Air Force activities spread over half the globe in the command that supports 45,000 Airmen serving principally in Japan, Korea, Hawaii, Alaska and Guam. PACAF is responsible for the command, control, and employment of air, space, and information operations capabilities, executed through the 613th Air and Space Operations Center.
READ MORE ABOUT GENERAL McGILLICUDDY…
Check Back Later As Our List of Authors Expands!