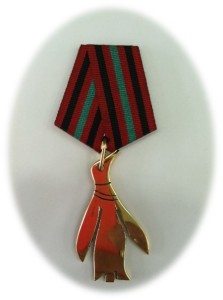 The Distinguished Order of the Penguin is awarded to extraordinary risk-takers who lead with courage and initiative.  These risk takers stretch their abilities and expand their capabilities in ways that inspire their teams to achieve greatness in uncharted territory. Distinguished Penguins strive to live their lives in a more excellent way in their home, workplace, worship space, or community and reward risk-taking in their surroundings.
Recipients of the Order of the Penguin are awarded a hand-crafted and limited-edition medallion, created by community-artisans in rural Afghanistan.  The pride of these artisans is expressed in the personal details of the individually-created medals, with each numbered and recorded here for all to see.  We are proud to sponsor this recognition of leadership courage in our community and even happier to share these outstanding leaders with you!
Citations are written below in the order they were presented to the deserving individual or team:
1) 03 August 2014 – 10AM
Presented to <<Name Masked For Security Reasons>>
This amazing individual started out in the Afghan military during the Russian occupation and saw the changes from then until now. He joined ANSF and went to the Aviation University, garnering high marks in proficiency of understanding and was assigned as a Fuel and Lubricants technician for a few years. He quickly accelerated through the ranks and proficiency and was transferred to budget and accounting training as a Major transferring to ANA finance. His skill was noticed by many and he was transferred to the AAF to be the Deputy Comptroller in the HQ division at a LTC. Upon seeing the many problems the AAF had in acquiring needed supplies and equipment, he started working with his advising team to correct the issues to help the AAF become a sustainable force. He quickly taught himself English and became very proficient, briefing coalition members with great skill in the process corrections being developed with the AAF A8 finance team. A highly proficient teacher with a wide breadth of knowledge of the Afghan accounting and budgetary methods. He spearheaded a process and system that would not only let the AAF manage its own money and streamline the requirement processes, but also directly reduce much of the corruptive methods rampant in the Afghan financial processes – a first in Afghan history. Always thinking of a better future for his and his nation's children, he ensured the processes being developed could be used GRIoA-wide. This perked the attention of Afghan and internationals communities alike, many times taking the risk to himself to push the process forward despite the danger it placed he and his family in. The consummate statesman, <<Data Masked>> pressed ahead despite this danger and ingeniously developed a training program that would address illiteracy and literacy alike – placing videos of himself teaching the process and system he helped develop. <<Data Masked>> is the epitome of a risk-taker for the right reasons!