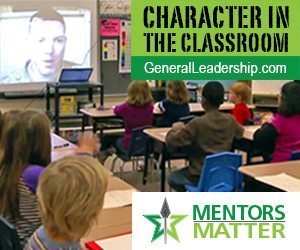 Objective:
MentorsMatter™ represents the creation of a one-of-a-kind platform to promote the development of character, leadership and civic responsibility in public and private schools across America.
Target Audience:
Veterans of all flavors! Active Duty, Retired, Honorably Discharged, Regular, Reserve, Guard
The Ask:
Veterans can register to become "virtual-mentors" to K-12 classrooms via their computer, tablet or phone using an innovate software platform that will "beam" them into the classroom via a safe, teacher-moderated environment to facilitate a character and integrity curriculum designed by Medal of Honor recipients.
The Approach:
Mentors Matter ™ is an innovative program spearheaded by The General Leadership Foundation (GeneralLeadership.com) and Choose2Matter (Choose2Matter.org) that leverages propriety technology to smartly and safely connect young people in grades K-12 with Veterans of our armed forces. Together, in 30-45 minute guided sessions facilitated by exclusive technology partner Nepris (Nepris.com), Veterans guide young people through a structured interactive classroom conversation designed to expose students to the character traits of highly effective citizen-leaders.
By registering as mentors, veterans will create a safe, protected profile and share their unique skills & abilities with interested educators.  When the program launches in schools across America this Fall, veterans can be contacted by teachers through the system to answer the need for a facilitator in a classroom.  The facilitation is easy–done virtually via computer, tablet or phone–in a safe, constructive environment utilizing a curriculum that is ready-made and simple to guide in an empowering conversation.
Utilizing award-winning curriculum developed by the Center for American Values (AmericanValuesCenter.org) and The Medal of Honor Society (cmohfoundation.org), mentors assist young people in exploring practical ways to:
Be Responsible – Have you done your best today?
Be Persistent – What obstacles did you overcome today?
Be Honest – Have you stayed true to yourself today?
Be Ready – What have you accomplished today?
Be Disciplined – What kind of decisions did you make today?
Be Sacrificial – Have you given of yourself today?
Be Flexible – What did you do differently today?
Be Committed – What Value did you add today?
Be Grace-full – Who have you pardoned today?
Be Grateful – Who have you thanked today?
Be Dependable – Have you kept your word today?
Be Consistent – Have you worked your plan today?
The Platform:
We believe this partnership provides a superb opportunity to address the essential elements of character, leadership, and civic responsibility largely ignored by current curriculum standards. The initiative highlights:
The importance of fostering meaningful mentoring relationships between those who have led and those who will be leading in the future;
It leverages the immense interest across the nation in Vet related issues;
It provides a platform for Veteran leaders who have limited mobility due to significant injuries sustained in combat to engage in adding value to another's life (satisfying their own need for validation they still matter in the process);
It provides a fresh approach to Character and leadership development in schools without placing an additional burden of instruction on the teachers and;
It moves front and center the importance in reinforcing to young people the importance of Civic Responsibility.

The Opportunity:
Discouragement with leadership is at an all-time high in America while confidence in leadership has never been lower. At the same time, the frustration with the tiny amount of open-space left in today's educational curriculum, coupled with challenged resources and budgets in our schools, has left many citizens concerned about the future of our youngest generation. People everywhere are starved for examples of positive, proactive initiatives capable of equipping, encouraging, empowering, and inspiring young people to be and do their best.
Properly positioned and marketed, this unique partnership provides a dynamic opportunity to speak to issues of interest to countless audiences. Leveraging two areas of significant importance to virtually all citizen groups, Veterans and School-aged Children, it is a universal message of hope and possibility that compels people to do their part to promote positive change…one relationship at a time.
Why This Initiative Matters:
Our nations finds itself at an important juncture in its history and one of the greatest investments we can make to seed continued success is a new, or refreshed, commitment to developing good character.
As executive chairman of the board at CACI International, Dr. Jack London recently remarked, "At both an individual and an organizational level, we need a committed and sustained effort to make a change – and to keep a strong emphasis on doing the right thing. We need to reestablish an unshakable focus on the values of honesty, trust, integrity and accountability." We need to once again make development of character a national priority.
Dr. London adds, "Character has such a profound impact on our lives, but for many this goes unrealized. The most critical success factor for everyone is character, but unfortunately not everyone knows this or knows it's the one thing over which we have complete control. Our individual character reflects our capacity to accept responsibility for our lives — who we are and what we will become. It dictates what we envision and how we seek to realize our vision."
This is a unique chance for veterans and active-duty military members to provide a positive influence in the development of tomorrow's leaders.  Sign-up to be a part of this innovative education program today by clicking on the banner below.  America's youth is hungry for leadership, integrity and character education…now you can help deliver it via the MentorsMatter program sponsored by The General Leadership Foundation and Choose2Matter!