The General Leadership Foundation is the only resource of its kind facilitating active conversations between you and America's most trusted leaders to inspire positive change.
Downloadable Information Sheet
Why we do it?
Because it's the right thing to do.  Military Leaders are among the most respected authorities in the world when it comes to the topic of leadership.  That said, we believe everyone can learn from the experiences and wisdom of military command leadership–and the Chairman of the Joint Chiefs of Staff agrees (at least according to this article).  For that reason–we're here to share that story in the best way we can: from the E-Ring to the C-Suite, from the wardroom to the board room.  To read more about our philosophy, please see the text below entitled "Why We Write" or read this insightful article.
Featured In:
General Leadership and its authors have been featured in the following media venues: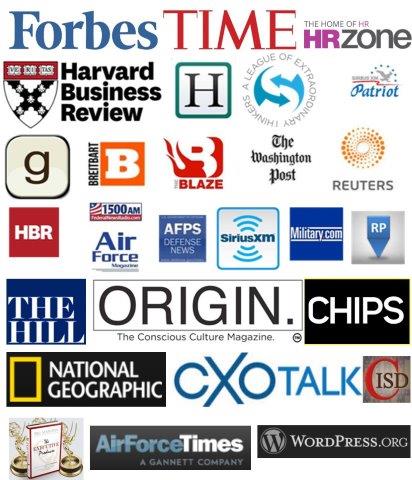 Press Releases:
Media Exposure:
 Contact:
To glean further insight into this one-of-a-kind blog that dispenses advice from America's General Officers, or to talk to one of the authors, please contact: [email protected]
Why We Write:
Sharing is more than a nicety; sharing is a responsibility. It is the responsibility of every teammate to share what they have learned with their leadership and fellow teammates in order to allow the organization, as a whole, to benefit from the same experience. Our military teammates work for the American taxpayer and maintain the same responsibility to generously share lessons-learned, thereby maximizing opportunities to create rich, mutually beneficial conversations.
In 2013, the U.S. Chairman of the Joint Chiefs of Staff levied upon his military teammates the following task: "to discuss who we are and what our wars mean to us." He put the onus on military leaders to learn "how to connect the warrior to the citizen," and to not only tell stories but listen to the different perspectives of fellow citizens and learn from them, in return. GeneralLeadership.com has heard this calling and is fulfilling the need by connecting our authors with the public, at large. GeneralLeadership.com authors leverage the proven leadership and strategic experience of command-level active and retired members of the United States Military. Our team specializes in providing unique engagement opportunities designed to enhance individual and organizational performance, and are selected for inclusion based upon a record of accomplishment of validated success in senior-ranking positions through which they have gained command experience leading complex challenges in dynamic environments. Through these proven leaders, GeneralLeadership.com provides world-class engagement commensurate with the demanding expectations of high-profile clientele who are seeking accountable leadership insight, training, coaching and development. As proven leaders in peace and war, GeneralLeadership.com's authors and curators consider it a privilege and responsibility to share what we have learned serving our nation across the globe.
Service is fundamental to our shared American experience …service to family, community, and country. This fundamental desire to serve is what drives people to the military; our recruiters have counted on this motivation to supply our all-volunteer force for over 40 years. Nevertheless, we must realize the military does not hold a monopoly on service or sacrifice. Across our nation, the desire to contribute permeates every aspect of our lives. This drive can be found in involved mothers and fathers, police officers, firefighters, coaches, pastors, peer-mentors and thousands of others who serve their communities each day. Our desire at GeneralLeadership.com is to weave the universal principles of leadership into our conversations with you …one opportunity at a time.
With an eye to our future, we have undertaken a quest and commitment to do everything to cross career-field and cultural boundaries to share the experience of learning with each other. Like you, our team is comprised of citizens who share a common desire to do our part to seed a better tomorrow…for all of us. We understand and recognize that yesterday may have brought us to today, but we must learn from our collective experience to make a better tomorrow a reality.
Overcoming the boundaries between the military and the society it serves requires a deliberate effort to expand our world and our understanding. For military members, it is tempting to stay tucked-away on military bases, socialize solely within the circles of military communities and affiliate with like-minded individuals. For the curators of GeneralLeadership.com, we consider it to be our mission to bridge the divide and bring the experiences, principles and stories amassed through war and military life to you, our readers and subscribers. To be clear, we expect it to be a two-way opportunity to engage. We want to learn from you: to gain from the best leadership principles and lessons in, and out, of service boundaries. Our quest is to help communicate and share the very best ideas and initiatives from the boardroom to the wardroom, the C-Suite to the E-Ring, Corporate America to all of America. Everybody wins when everybody shares the experiences that help people and teams operate at their best. At GeneralLeadership.com, we believe leadership is a universal skill-set…and the measure of success is defined by results, not attributes.
Let the conversation begin!
General Leadership is privately operated and is designed to provide leadership perspective and conversation on character and integrity from senior military leaders. Neither The General Leadership Foundation, nor GeneralLeadership.com, operates as a partisan political advocate or activity, nor do our curators and authors participate with the Foundation or site in such capacity.  Our collective activities are not directed at the success or failure of a political party, partisan political candidate, campaign, group or cause nor do we solicit or fundraise for such activities.
The images depicted and opinions expressed on this website are solely those of the author and contributors and do not represent those of any agency of the United States Government, expressly including, but not limited to, the Department of Defense, the United States Army, the United States Navy, the United States Marine Corps, the United States Coast Guard, or the United States Air Force. The site is not designed, authorized, sanctioned, or affiliated, by or with, any agency of the United States Government, expressly including, but not limited to, the Department of Defense, the United States Army, the United States Navy, the United States Marine Corps, the United States Coast Guard, or the United States Air Force. The opinions of the authors and commentators are theirs and theirs alone.
The curators and owners of General Leadership do not assume any responsibility for the opinions of posts or comments they did not personally write. Opinions are based upon personal experiences and knowledge. The views of the authors do not necessarily reflect the views of the owners/administrators of General Leadership and remain the intellectual property of the individual author. Additionally, Owners/Administrator/Authors are not responsible for the content of others–especially comments which may be left by readers.  Such comments collected from readers are not endorsed, nor is endorsement implied, by the General Leadership Foundation, GeneralLeadership.com, it's curators or authors. General Leadership does not endorse or denounce authors' opinions.
GeneralLeadership.com authors and curators participate as individuals in their personal capacities and act exclusively outside the scope of official positions and in a manner not related to official duties.  Furthermore, participation in The General Leadership Foundation is not intended to conflict with official duties of active military members.  Disclaimers are made in accordance with 5 C.F.R.  § 3601.108(a)-(c).
Users, readers and visitors accept and agree to this disclaimer in the use of any information accessed in this website.