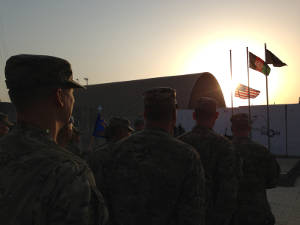 PRESS RELEASE – SAN DIEGO, California (GeneralLeadership.com) July 4, 2014 – Tony Robbins and Robbins Research International announced today a generous gift for active-duty military members serving in Afghanistan and their families in the form of complimentary access to Tony Robbins' MILITARY ULTIMATE EDGE program.  This personalized online resource, normally available to the public at $299, was provided free of charge to directly address personal resilience challenges that effect combat-veterans in the U.S. Military and their families.  Active-duty U.S. Military members who have served, or are serving, in Operation Enduring Freedom or Operation Iraqi Freedom, as well as their spouses and children, can access this complimentary resource at
http://www.tonyrobbins.com/for-our-troops/  
The MILITARY ULTIMATE EDGE program is the culmination of over three decades of Tony's work, helping over 50 million people in 100 countries overcome obstacles and achieve results they desire.  Previous clients range from sports champions, entertainers and world leaders to everyday parents, students and soldiers, and others who desire to create lasting positive change in their lives.  The Ultimate Edge program is the world's #1 bestselling personal and professional achievement system and has been modified and now offered at no cost to active-duty members of the U.S. Military and their families who have served, or are serving, in Operation Enduring Freedom or Operation Iraqi Freedom.
Brigadier General John E. Michel, Senior Curator of GeneralLeadership.com, is excited to share Tony Robbins' program.  "There is one thing to be certain about," said General Michel, "that you are greater than any challenge you will face!"  He went on to share, "Passion, purpose and inner strength are essential to taking life to a new level, and Tony's MILITARY ULTIMATE EDGE program is a one-of-a-kind resource to help make this possible. We at the General Leadership Foundation hope warfighters will take advantage of this tool to bolster resiliency, passion, purpose and inner-strength."
—————————-
About Tony Robbins: For the past three decades, Anthony Robbins has served as an advisor to leaders around the world. A recognized authority on the psychology of leadership, negotiations, organizational turnaround, and peak performance, he has been honored consistently for his strategic intellect and humanitarian endeavors. His nonprofit Anthony Robbins Foundation provides assistance to inner-city youth, senior citizens, and the homeless, and feeds more than three million people in 56 countries. Robbins has directly impacted the lives of more than 50 million people from over 100 countries with his best-selling books, multimedia and health products, public speaking engagements, and live events.
About The General Leadership Foundation: The General Leadership Foundation facilitates active conversations between readers and America's most trusted leaders to inspire positive change.  The organization believes that leadership is a choice, experience promotes growth and that example influences change.  Via their online resource at https://generalleadership.com, the General Leadership Foundation provides insightful articles written by active-duty and retired senior military officers and enlisted members, veterans outreach activities and media resources.  
Media Contact:
Matthew T. Fritz, Senior Curator
The General Leadership Foundation
http://www.tonyrobbins.com/for-our-troops/  
###
For a legal review of our active-duty curators and their affiliation with this offer from Tony Robbins, please click the following link:
https://generalleadership.com/wp-content/uploads/2014/07/Tony-Robbins-via-GeneralLeadership.com_.pdf