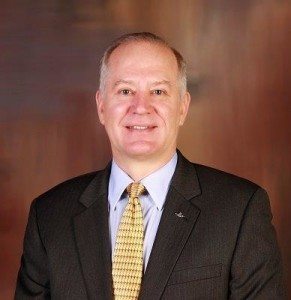 In this LeaderView™ Leadership Profile, we highlight intriguing leader: Major General Ronald R. Ladnier, USAF (retired).  Major General Ladnier was nominated for this interview by our readers and staff, which speaks highly of both his leadership and personality. After a successful career as a command pilot and command-leader in the US Air Force, Maj Gen Ladnier now serves as the President, FlightSafety Services Corporation, where he leads the company in the training of military aircrew at 15 U.S. Military Bases using advanced training devices.  A graduate of the US Air Force Academy, Maj Gen Ladnier culminated his military career leading the 17th Air Force, directing all Air Force activities in Africa.  We sat down to talk with Major General Ladnier about what makes him tick as a leader, and how we can learn from his leadership experiences to improve our own capacity for change.
LeaderView™ Leadership Profile
Q1: Maj Gen Ladnier, What has been your most notable leadership experience?
Commanding the first C-17 squadron in the Air Force from scratch to operational status.
Q2: That's very impressive–and groundbreaking!  What is the best leadership advice you were ever given?
Do what only you can do for the organization–vision, planning, focus, motivation, etc.  Delegate the rest to the appropriate level and person.
Q3: Sage advice that seems to have served you well.  Who is your favorite leadership mentor or example?
[Note: General McNabb retired as the Commander, U.S. Transportation Command at Scott Air Force Base, IL]
Q4: We know that successful folks read.  What are you reading these days and what is the best book you have ever read?
"How the Mighty Fall: and Why Some Companies Never Give In" by Jim Collins
Q5: What is your favorite question?
"…then what's next?"
This speaks not only to planning, but also to process improvement.  Asking "why" is my second favorite question!
Q6: Why is a change mindset so important to successful leaders? how might the idea of change apply to young professionals making their way in the workplace today?  How do you know you are effecting positive change?
The conditions we operate in are constantly changing.  We must continuously assess the tools and resources we possess, the environment we operate in, and the adversaries we face.  This is true both on the battlefield and in the business world.  Not adapting normally means we lose a battle or lose business.  Success and failure provide us the immediate feedback we need, whether we've adapted or not.
Q7: You have a wealth of experience and a highly successful track record.  What advice would you give to the young professionals to make their way in this world?
Read professional journals.  The goal is to undersand what your boss is going to ask for next and to anticipate that request.
Here's a trivial example:
If your boss is asks you to cut the grass, know that he expects the grass to be edged and the bushes trimmed, as well.  Don't wait to be told.
Q9: As we think about the concept of teamwork or unity, it feels like developing great teams is somewhat an art and there certainly is a fine line between good teams and great teams.  How does great teamwork come about and what leadership attributes make this possible?
Communication is the difference.  Never miss an opportunity to talk about what we need to do (a common vision or goal) and why.  Leaders must constantly address the "why."
Q10: Why do you think some leaders fail at being a leader?
The ones I've seen fail have been individuals who assumed they were smart, or talented, enough to not need to rely upon others for advice or delegation.
Q11: How do you think leaders and teammates can best receive value from sites like GeneralLeadership.com?
GeneralLeadership.com provides another source of professional readings to learn from.
In Closing:
Thank you, Major General Ladnier, for taking the time to share your thoughts, insights and advice with our readers and subscribers.  We have all learned a lot about you, what makes you tick, and what inspires you as a leader.  We are grateful for your time and, most importantly, your leadership!
If you liked what you read, sign up for our frequent newsletter by clicking HERE — and you'll also receive our handy Leader's Reference List  as our free gift to you!