It's that exciting time of the month again when you have the opportunity to interact with us LIVE on SiriusXM Patriot Channel 125 at 9pm Eastern (8 Central, 7 Mountain, 6 Pacific) Wednesday, 3 June 2015.  This special "12-Talents" broadcast will feature David Webb, General John E. Michel, Colonel Matthew T. Fritz and our special guests!
3 June Guests: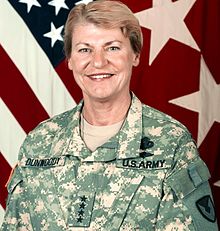 General Ann E. Dunwoody (retired) is the former commanding general of one of the Army's largest commands, the US Army Materiel Command. Now retired, she offers strategic insights to companies and corporate boards. In addition to becoming the first woman in US military history to achieve the rank of four-star general, she was also the first woman to command a battalion in the 82nd Airborne Division and Fort Bragg's first female general officer. Dunwoody was also the first woman to command the Combined Arms Support Command. Now retired after nearly four decades in the Army, Dunwoody shares what she learned along the way, from her first command leading 100 soldiers to her final assignment, in which she led a $60 billion enterprise of over 69,000 employees, including the Army's global supply chain in support of Iraq and Afghanistan. With these and other guiding principles, A Higher Standard offers practical, tactical advice that everyone can use to lead and achieve with maximum success.
Twitter: @anndunwoody
Book: A Higher Standard: Leadership Strategies from America's First Female Four-Star General
Bob Nurmikko is the host of the show and goes by the name Barbecue Bob.  Bob has been grilling for over 30 years and has picked up cooking methods from travels around the world.  Bob lives in Lowell with his lovely wife and 5 kids.  The Nurmikko family loves  to hunt, fish & Camp.  Bob met his wife at Ferris State University after serving in the United States Air Force.  Bob also served in the Army National Guard. Bob is a manufacturer's representative in the Grill/Barbecue and Hot Tub industry for eight states.  He has a twenty year history in the retail and wholesale markets in backyard products.  He has partnered with Operation Injured Soldiers to lead Operation GI BBQ, with the goal of bringing good ol' American BBQ to the troops via Bagram Air Base in Afghanistan.  They need help raising $28,000 to buy a Texas Gator Pit Smoker, a pallet of sauce, a pallet of bbq spices, several skids of great lump charcoal, and a full pallet of good old American Beef Brisket.
Twitter: @Grillinguy
Website: http://thegrillinguys.com
How did you enjoy today's post?
If you liked what you read, sign up for our frequent newsletter by clicking HERE — and you'll also receive our handy Leader's Reference List
as our free gift to you!