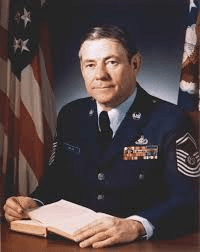 GeneralLeadership enjoys the opportunity to highlight leaders who our readers believe provide excellent examples worth taking note of. Through our LeaderView™ Leadership Profile series, we reach out to identified candidates and ask for their insights as to what makes them tick as a leader.
In our latest LeaderView™ Leadership Profile, we caught up with Robert D. Gaylor, former Chief Master Sergeant of the Air Force and adviser to Secretary of the Air Force John C. Stetson and Chiefs of Staff of the Air Force Gen. David C. Jones and Gen. Lew Allen Jr. on matters concerning welfare, effective utilization and progress of the enlisted members of the Air Force. He was the fifth chief master sergeant appointed to this ultimate noncommissioned officer position.. Not only did we get a chance to pick his brain on his views on leadership, he has joined our team as our newest author! Expect to see his writings in the near future–welcome to the #GeneralLeadership team, Chief!
Click on the link below to learn more about CMSAF Gaylor and how he views leadership!
LeaderView™ Leader Profile: CMSAF#5 Robert D. Gaylor
Do you know an inspiring leader who you think we should engage with via a LeaderView interview? If so, let us know by contacting

[email protected]

!