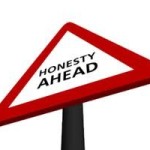 "Honesty is the cornerstone of all success, without which confidence and ability to perform shall cease to exist."
Mary Kay Ash
General John Handy, a 37-year Air Force veteran, shared the following story at a graduation of the Air Command and Staff College (an Air Force graduate school program) several years ago.
It was Friday afternoon and two college students from the University of Alabama were coming close to finishing finals week. Being good students who had already prepared for their final chemistry examination on Monday, they decided they wanted to celebrate a little early. So, they packed the car and headed north to the University of Tennessee for some good ole fashioned fun. They found what they were looking for.
After a fun-filled but extremely tiring weekend, they decided to postpone their trip back to Alabama. Rather than leaving on Sunday, they chose to depart first thing Monday morning, confident they would be forgiven for missing the chemistry final. They arrived back on campus and found the Chemistry professor in his office. His first question was, "What happened? It's not like you boys to miss a test?" The first student spoke up quickly and explained how they had gone to Tennessee for the weekend and on the way home, had a flat tire. As they were not close to a town when it occurred and the spare turned out to also be flat, it took a great deal of time to get the tire changed.
The professor listened sympathetically. He told the boys that he understood and advised them he would wait until the next day to administer the make-up test as they had worked so tirelessly to return home despite matters that seemed out of their control. The boys enthusiastically agreed and left the professor's office confident their façade had worked.
As directed, they returned the next day and the professor gave each a copy of the test and sat them in separate rooms. The boys opened their tests. The first question was worth five points and was a simple recitation of a basic chemistry formula. The boys were ecstatic, knowing this test would be a cakewalk and their weekend's secret was safe. Each then turned to the next page to find that the next question was worth 95 points.
The question simply asked: "Which tire?"
*******************
Thousands of years ago, the great Chinese general and philosopher Sun Tzu offered a timeless piece of advice that is as true in warfare as it is in the business of our lives: Know thy enemy. When it comes to the battle of growing into the kind of leader you want to be and others deserve to see, we must learn that one of the greatest enemies of our effectiveness is allowing hypocrisy to displace honesty in how we govern our lives.
Hypocrisy is the opposite of honesty. Like the college students who fabricated the story of the flat tire, anytime you sacrifice honesty to distort facts, twist the truth, or attempt to convince others you're something you're not, you're living a lie. In fact, by its very definition hypocrisy is choosing to express "insincerity by virtue of pretending to have qualities or beliefs that you do not really have." This is why a hypocrite was originally described as an actor who put on a mask to assume a false identity while he played for the audience. What he or she did in the moment had little to nothing to do with what they really believed.
Few of us reading this would argue against the assertion that honesty, defined simply as genuineness of thought and expression, is important to people. Regardless of age, color, creed, faith belief, or political orientation, if we are to become leaders with character committed to building value into our surroundings, then honesty must be ever present. But sadly, all too often, honesty is convenient and a casualty in a world seemingly content to believe that anything goes. After all, it takes virtually no effort for people today to witness dishonesty or hypocrisy first-hand.
Turn to any news channel, pick up a magazine, or jump on the information superhighway and you'll come across story after story of even our world's most successful people living lies on an almost daily basis. Athletes are caught using illegal performance enhancing drugs, politicians are found with hundreds of thousands of dollars of bribe money in freezers, and pastors are caught living out the very life in private they condemn in public. Hypocrisy is everywhere and more than anything, it undermines the role of leadership. And here's the rub, in the eyes of anyone who looks up to you as a leader just one instance of hypocrisy can undermine a lifetime of honesty.
Hence, what's important to recognize is how hypocrisy, the absence of honesty, erodes trust and pulls people apart. Honesty, on the other hand, integrates people and makes trust possible. Said another way, dishonesty tears down while honesty builds up.
So, be it your home, workplace, worship space, or community, wherever you're called to lead, be sure to manage your affairs with honesty. Let your personal commitment to living truthfully, show clearly in what you do every day. And as you do, you'll become a leader others will eagerly follow – a leader who understands that cheating in little ways is cut out of the same piece of cloth as cheating in big ways. For just as a small drop of dye will color even a large glass of clear water, even the smallest act of deception, the slightest displacement of honesty, will color our character for a lifetime.