"Self-Reflection is the school of wisdom."
Baltasar Gracian
As the year 2016 just ended, and we engage our planning and thinking towards the new year, many leaders are being reflective to determine if they accomplished their goals and objectives for the year. I always enjoyed this time of year when I was actively leading as it allowed me to relax and to look backwards across my previous year, experiences, and most-importantly, my professional relationships.
There is great value in being reflective about your leadership; looking backwards can really help you going forward.  Sadly, in our hustle-bustle 21st century world, and more specifically in our dynamic and challenging leadership roles, there is a scarcity of time for this. I believe that each of us would be a notch or two better in our leadership if we took the time to look backwards before we went forward.
The previous year contains so many outstanding opportunities for growth through the activities, interactions, learning events, successes, and failures. I recall being told once that you can have a good leader and a bad leader and you will learn from both of them. I have always viewed the end of year reflective opportunities in the same light.
There is no substitute for a clear vision and a decisive direction ~ Dick Morris
Some key areas to focus on in your rearview observations are experiences, relationships, learning, successes, failures, trust situations, professional growth, and ethics, morals, and values interactions and activities. There are many others as well so take a couple of minutes to jot down additional areas that you believe would provide insights to shape your oncoming year.
I am especially focused on trust, professional growth, and ethics, morals, and values interactions. As I look at these specific areas I identify both the successes and failures. I capture as many specifics as possible, I look for the little things that I may have missed or hurried past, and I strive to capture the end results. Specifically, what can I learn from this singular activity that has popped up on my rearview mirror and how can I improve from it.
As I accomplished this recently, I recognized that I had a situation occur in 2016 that most-likely sent up a signal to my supervisor and co-workers that I was distracted, deserved closer observation, was preoccupied, or over-tired. The situation may have damaged my trust relationship as well.
One of the jobs I am engaged in during my retirement years is a bucket-list item of driving semi-tractor trailer. I really enjoy it and honestly, it gives me great satisfaction while allowing my leadership-wired brain an opportunity to generate all types of ideas and possibilities without too much conflict or distraction.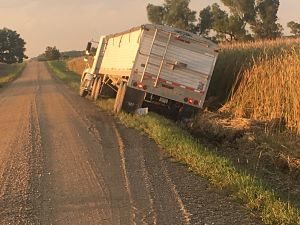 In October, I was leaving my boss's soybean field with about 80,000 pounds of soybeans and as I drove down the road, I went straight into the road ditch and I buried all the wheels in the mud and put the trailer at a precarious angle almost tipping it over.
My boss stopped the harvest operations and after learning that I was unhurt, he redirected all the workers and the energy to unload the trailer and remove the truck from the ditch. My singular error cost the operation lost work hours, revenue, and additional costs for equipment rentals. When it was over, my boss asked me one simple question, "did you learn anything from this event?"
I really did not learn until this past week when I put it into the right perspective of what was in my mind and going on around me on that specific day and time. I was now able to recognize that I was largely mentally distracted as I was teaching an online class the next morning and I was not as prepared as I wanted to be and I was tired from working all day and knew that I was short the time needed.
So, going forward in 2017, this is one area of my life that I will consciously adjust to prevent a similar situation from occurring. I have identified two or three additional factors that I will adjust, and I have done in-depth research on distraction avoidance. I have sought out assistance from my mentor and from a trusted confidant to ensure I have a plan that is going to help prevent this situation from occurring in the new year. Learning has occurred and I am anxious to observe the growth that should follow.
I encourage all of us to take some time as this new year 2017 gets started to look backward across 2016 so we can be better prepared and ready for what comes at us. Introspection is an important piece of a leader's DNA; use it, share it with others, and learn as much as possible from the activities, interactions, learning events, successes, and failures that you have experienced!
How did you enjoy today's post?
If you liked what you read, sign up for our frequent newsletter by clicking HERE — and you'll also receive our handy Leader's Reference List
as our free gift to you!