"Tell me, if you had to go into battle, would you want him with you?"
Quote from "Top Gun"

Every organization has a leader whose job it is to produce results: combat aviators, increased sales, on time deliveries, or increased profits. This position almost always comes with a title, "Commander", Director of Marketing, Executive Vice President, Chairman, or CEO. Each of these positions has some bottom line, some overarching goal that the leader must meet or face the consequences.
Study after ponderous management study confirms what common sense already tells us: while the CEO sets broad strategic guidelines it is the lower ranking subordinates who do much of the real work of an organization. This is true of any organization. Congressional policy is framed by staffers based on a Congressman's stance, corporate production is really done by workers on the line or by the worker bees in their cubicles, and certainly every military organization has its "iron majors and chiefs" who frame plans and policy and actually do the work of "boots on the ground or bombs on target."
In the Top Gun analogy, "Viper" asks the key question, "Do you want Maverick on your wing when we go into combat? How do we identify, evaluate and train our own "Mavericks?" Many of today's most successful American corporations have made their mark with innovative, game changing policies or products. And often the real "out of the box" solutions come from the "Maverick's" of an organization.
In some cases like Apple and Facebook, the CEO's themselves are iconoclastic, visionary mavericks. They championed a corporate culture of innovation, which strives to encourage workers, unburdened by the need to answer the stockholders, to be the creative thinkers. These are the folks who organize the working groups and the "tiger teams" to meet the leader's strategic visions. But when the staff meeting is over and the big boss has framed the goals and objectives these subordinates get together and ask the question, "How are we going to get this done?"
Sadly many corporate cultures are heavily entrenched in sclerotic bureaucratic management styles. Like giant container ship on the ocean, which takes many miles to make a simple turn, many of our large organizations, especially government bureaucracies can take many years on their own course corrections toward cultural change. Just look at the crises we have seen in entrenched governmental bureaucracies like the Veteran's Administration or the IRS. There is often no simple fix and the bureaucrats can often outlast their appointed leadership.
For a supervisor in an embedded bureaucracy one of the biggest challenges is to identify the true leaders, the innovators, and the folks who get the job done. These key workers, may often lack a fancy title, but are truly the informal leaders of their organization. A former boss of mine used to say, "In a crisis, go to your horses."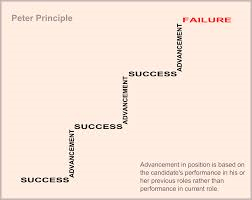 Unfortunately, often times, leadership is based seniority rather than ability.  Age, rank, corporate position, and sadly, gender may have placed a person in charge who is the ultimate epitome of Lawrence Peters, "Peter Principal." Mere time in the bureaucracy has allowed these men and women to rise to their highest level of incompetence.  The young bucks, the real horses are still many years from having the corporate rank or title, the government service level, or the military rank to be in a position of power and decision-making. We have all seen organizations where the assistant or deputy was the real go to person on a team but lacking the corporate "pedigree" they remain years away from leadership or may never attain decision-making status.
Yet it is critically important to identify these folks so they can at best, move up in the organization or at least remain unconstrained to provide their abilities and leadership. Military leaders often say that you go to war with the people you have not the people you wish you had. So it is your job to know who your real horses are.
The rules of your corporate culture may prevent you from promoting and advancing the best folks. You may not be able to reach below the next level to promote the most qualified, and place them in charge. Yet the future success of your organization dictates that you as a senior leader identify and keep an eye on your horses or your "Mavericks." These people will win your future battles.
Identifying informal leaders can be a challenging task, and unless you the remarkable leader totally in tune with all the members of your team, you may not really know who your real "horses" are. It can be harder the higher in the organization the leader is because he or she you must juggle between answering to your boss' and passing the word to your own directors or mid level functionaries. You are simply too busy putting out big fires to notice the real workers. When your supervisory duties lead you to manage any more than about 100 people, your ability to know each and every individual becomes more difficult. If you rely solely on your key supervisors to provide solutions and use their people, you may be making a mistake
For better or worse, intermediate supervisors often get the credit for meeting the goals as they have the boss' ear or garner most of the face time. In fairness to today's leaders, many intermediate level supervisors, especially the great ones, who are on their way up the corporate ladder, are good at sharing the credit. But often times, undue credit is taken and the real genius is often overlooked. Large organizations breed politics and bureaucratic in fighting. Sometimes a person is so good that a leader, motivated by jealousy, threat to his or her own job, ego, or simply a desire to continue producing positive results will keep the subordinate sequestered in fear of losing him or her to another division or organization. Some folks will prevent their best workers from moving up because of their perceived value to the organization. As the leader of any organization you must be aware of this reality.
Now, if you lead in corporate America please don't dismiss the war fighting analogy. You fight a strategic battle everyday for the newest innovation, the next level of sales, or the goal of raising the stock price to satisfy the shareholders. It is simply battle in a different form.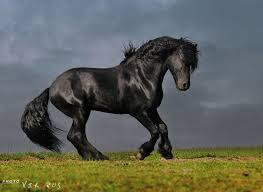 So lets ask the question again, "Do you as a leader know who is the best prepared to take your organization to war, or lead the team into the newest market segment? Do you know who your real horses are?" In other words if you had to take your team to war tomorrow, who would you want right behind you as you lead the charge?
Here are a few suggestions that I learned mostly by making more than my share of mistakes:
Yes the first suggestion is so frequently used in management circles as to come off as trite and intuitive. But it bears repeating. Get out from behind your desk and explore the cubicles. Meet your people. For busy executives, the concept of management by walking around is easy to say but in reality very hard to do. So my suggestion is to schedule your walk around after normal hours, when your in box is nearly empty and the phone calls have stopped. After quitting time is when your real horses are likely burning the midnight oil to provide you answers.
Consider expanding your staff meetings, when possible, to meet with other than your key directors, or first line subordinates. By having a larger gallery present, you may get a broader perspective. Subordinates, for entrenched bureaucratic rules or chain of command protocol are often reluctant to speak out with their immediate boss at the table.
Seek opinions from all attendees. This is very difficult to achieve. One technique is to expand your questions to ask for deeper a level of understanding; seeking to force the presenter to provide a level of detail he or she may not be intimately familiar with. Avoid placing the your director on the spot by starting with, "You may not know the answer to this but maybe one of you does." At minimum you need to recognize that your director has been so busy fine-tuning his message he or she may not have this level of knowledge.
The folks in the gallery may have an outside opinion that they will only express when you as the boss ask a question directed directly to them. Watch the body language of those in the gallery, as it often speaks volumes. Watch to see who sits behind the briefer, as he or she is often the "go to" person who framed the policy and constructed the original slide deck.
You can rest assured that for any board meeting or decision briefing given to any leader, the "power point rangers" have scrubbed that slide deck over and over to influence the decision maker on a course of action. How do you know who the real author was? Ask the pointed question…."Who on your team was responsible for putting this briefing together. It was good work, and I would like to thank them."
Find out whom on your staff are the key connectors, the person is who interfaces across the organization. Almost any decision made by an organization must be done by different branches who are may be protecting their own position or "rice bowl."  Someone in your group is responsible for the cross talk. It is usually the one expert in your organization who knows the subject well enough to garner support and consensus across functional lines. This person may not be your smartest expert, but her emotional intelligence has led to a coordinated plan and successfully driven the whole team to a policy recommendation. Never underestimate the power of the connector.
Similarly try to identify that person in your organization who is the networker. This is the guy or gal who seems to know everybody. They have a massive contact file. Like the prototypical Radar O'Reilly, they have the power to find outside expertise to help with the solution. Networkers, usually maintain their networks by helping others. The have good reputations outside of their own group or tribe. These servant leaders get favors returned and often are the informal power brokers. When time is at a premium it is the networker who can get someone to help when the clock is ticking and the "outside help" has no real vested interest in the solution, only a genuine desire to pay back a favor. Senior Air Force officers have stated that this skill set is one they would most have liked to develop as a junior officer.
Recognize that the mavericks may not be popular with their leadership or within their peer groups, as they may march to a different tune. They may be great thinkers, but lack the tact and diplomatic skills to function effectively in their group. Mavericks can be introverts reluctant to get involved with the team, contrarily, they may feel that they are the smartest person in the room and be dismissive of other members of the team. Mavericks may not have the personality to play well with others; they break china in getting the tasks done. They can be the best person to get things done, but we must sometimes force ourselves to listen to them in spite of their personalities. Some mavericks are innovators, but some for whatever reason hoard their own power. Mavericks can be a blunt instrument, and may have a detrimental effect on their unit. Use them if necessary but be aware of second and third order consequences of their lack of teamwork. But do not make the mistake of ignoring the mavericks because you don't like them. Like our Maverick of Top Gun, your own mavericks must be mentored and trained to function for the good of the team and mission. "Never leave your wingman."
Similarly, recognize that sometimes the real operators who are experts at their trade may not be the best staff person…they may lack the interpersonal or communication skill to succeed on the staff or move up in the organization. They may like what they do and don't want to supervise. We all know pilots who just want to fly airplanes and not manage people, or programmers who just want to write code and be left to that task. These people are often the ones who make the mission happen. They don't come across on paper as your stars, but they are the ones you want leading the mission.
As stated above, we must be aware of the "peter principal" as it is still alive and well in many organizations. The skill set to survive in a bureaucracy may have more to do with social skills, and oral and written communication. Sometimes the fast track person is surrounded by a halo effect that keeps them rising, but while successful in a staff, may not be the right leaders for your companies "combat role." The future of your organization should not be placed in their until they are ready to truly handle the reigns without a steady hand deputy. Your subject matter expert, your real horse may eschew supervisory positions in lieu of practicing their own given craft whether that be accounting, programming or shooting down enemy MiGs.
Leadership and management is an art form. As a leader, you need to maximize the ability of every person in your organization. But the higher you go in your organization, and the more people you manage makes it harder to know whom the real workers are. The top ten rules are only suggestions, or tools in your own vast tool chest.
Perhaps your best tool as a supervisor is to ask yourself and your immediate subordinates, "If we had to go to war tomorrow, and you couldn't take everyone, whom would you choose to take with you?" Identify your horses; recognize both their strengths and their limitations. Know whom your team needs to function, and then lead from the front trusting that they have your six o'clock position secured.
In the end Maverick's tactics and flying skills, validate Viper's trust in his abilities. He splashes enemy fighters, saves his wingman's butt, and keeps the attack from reaching the carrier, but not until he has learned the painful lessons of being a wingman at Top Gun school. We should all strive to know who are horses are, maximize their abilities to get the job done and earn the right to say, "Bullshit, you can be my wingman."
How did you enjoy today's post?
If you liked what you read, sign up for our frequent newsletter by clicking HERE — and you'll also receive our handy Leader's Reference List
as our free gift to you!