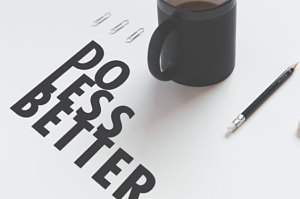 "If you seek tranquility, do less. Or (more accurately) do what's essential — what the logos of a social being requires, and in the requisite way. Which brings a double satisfaction: To do Less, Better."
Marcus Aurelius
We live in a world of unprecedented opportunity. However, with abundant opportunity comes an incredible level of noise, distraction, and busyness–all of which contribute to the diffusion of our single greatest resource: time.
Never in the entire history of humanity has it been easier to waste time. In fact, how many times have you heard others express, "I don't have time?" How about you? Have you found yourself frequently struggling to efficiently focus your attention and effectively balance your schedule?
I know I certainly have.
Of course, time isn't the only valuable but finite resource. All of us struggle at some level with insufficient resources to pursue our deepest dreams; support to achieve our greatest goals and energy to enhance our most important relationships. And all the rest.
This ever-present awareness of the limits of our time is made even more acute by the misplaced, yet wide-spread belief success is about doing more. In a world where more appears to be best—more money, more opportunity, more accumulation, and the list goes on—what if we, in fact, have the proven formula for success inversed?
What if less is actually best?
An Old (But Very Relevant) Idea
One of the ancient philosophers who has greatly influenced my personal thinking and professional development is Marcus Aurelius. Known as one of the five "good emperors" of Rome, Aurelius was a general turned reluctant emperor. As history confirms, he was a soldier and leader who genuinely cared for the well-being of his citizens.
He lived in a time where chaos was paramount and death was prevalent. Struggling to make sense of the disorder of society, he penned a personal memoir which we now know as the "Meditations."
By all measures, it is unlikely he every intended for these ideas and reflections to become public domain. His was a personal work designed to illuminate, inform, and guide his internal life. Meditations was written to serve as a reminder of what was most important if he were to live and lead well.
Even though he wrote these words around 2,000 years ago — his insights still carry extraordinary relevance today.
In one of Marcus Aurelius' most insightful meditations to himself, he addresses this issue of time.  Not by laying out the importance of making lists and checking it twice, or of maximizing productivity by scheduling our time in prescribed increments governed by achieving specific goals, but rather, by reminding himself of the importance of doing less in life— of the power and freedom born of choosing to eliminate unnecessary actions from his day:
"'If thou wouldst know contentment, let thy deeds be few," said the sage. "Better still limit them strictly to such as are essential, and to such as in a social being reason demands, and as it demands."
This philosopher emperor follows his note to self with some very important clarification. Not nothing, less. Do only what's essential. "Which brings a double satisfaction," he writes "to do less, better."
Do. Less. Better.
Three words with the proven power to positively transform each of our personal, professional and spiritual lives by reminding us all to focus our greatest energy and intellect on that which is essential.
Practice Essentialism: The Six-Question Meditation  
In his bestselling book, Essentialism: The Disciplined Pursuit of Less, author Greg McKeown channels the emperor turned philosopher's timeless advice, making the modern-day case for us to focus on doing less, better–what he terms "essentialism."
The premise of his book rests on the idea that only once you give yourself the permission to stop trying to do it all, to stop saying yes to everyone, can you make your highest contribution towards the things that really matter. In essence, if you want to increase satisfaction, improve productivity, and build a path to sustainable success, you must make a habit of asking yourself, "What is essential?' Then eliminate everything else.
To be clear, McKeown isn't espousing the need to go back to a simpler time. It's not about eschewing email or disconnecting from the internet or living a monastic, isolated life. That isn't progress, its regression. No, doing less, better is about living our lives purposefully by resolving to get the right things done.
It's about being and doing your best at the things that matter most.
How can you get started doing less, better? Begin by meditating on these three personal inventory questions:
What am I most deeply passionate about/inspired by?
What or where am I particularly talented or gifted?
–     What significant need in the world can I meet (and ideally, get paid for doing so)?
Now refine your three personal inventory questions by focusing on the following three clarification questions:
If I could do only one thing with my life right now, what would I do?
Is this the very most important thing I should be doing with my time and available resources right now?
What am I going to say no to (or yes to) in order to protect my personal happiness and peace?
Taking the time to complete this six-question reflection about your interests and aligning your actions appropriately is the fastest, most effective way to begin doing less, better. It's also the most efficient means of inspiring and energizing yourself to get busy making the important contribution to the world only you can make.
One willful choice at a time.
Closing Thoughts
Being and doing our best demands that we eliminate the unnecessary things in our lives. It requires that we develop the discipline to guard ourselves from falling prey to the tyranny of the urgent–those low to no-value added actions, words, thoughts, and emotions that do little more than dissipate our energy and diffuse our focus.
By choosing to go the countercultural route and doing less, better we position ourselves to increase our attention and enhance our perception about what is vitally important to us in life. Be it investing time in your marriage or with your family, spending time building your business or taking time to refine your creativity and expand your knowledge, one of the greatest gifts you can give yourself is to take time to ensure your priorities, your actions, and your limitations are properly balanced.
As more and more technology enabled expectations and demands threaten to further infiltrate our lives, there has never been a better time than now to resolve to do less, better.
Why not give it a try, today?