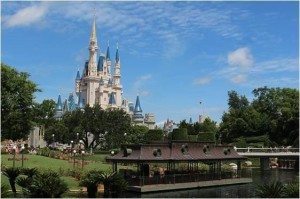 A few years ago, I had the opportunity to attend a Disney Institute program in Orlando. One of the topics we covered concerned "wows". There are lots of wows that we experience every day, but in the entertainment and theme park business, most people think of the big wows. They think of the big, new attraction, the super cool computer-generated imagery of a movie, or that monster roller-coaster that raises your heart rate. In short, big wows excite, capture imagination, and draw an audience in.
But what about things that aren't big? What about small things that still carry an important message? These would be considered little wows. They are the actions we take day-to-day that in and of themselves, may almost be missed, but their ultimate impact is positive.
On the second day of our program, we finished class about lunch time, and after lunch were given a "backstage" tour of the Magic Kingdom at Walt Disney World. We saw the utilidor system where the administrative and logistics functions happen in the Park, as well as how RFID technology is used to track Cast Member uniforms, or "costumes" in Disney parlance.
…And Then It Happened: Wow!
At the end of the tour, the staff took us to Main Street USA, a section of Magic Kingdom leading from the Park entrance to Cinderella's Castle, and home to shops, stores, and restaurants. We were told to observe. We were to look for those things that we had discussed in our classes, actually happening in the Park. A friend and I grabbed some ice cream and sat on a bench on Main Street and just watched. We didn't have to watch long.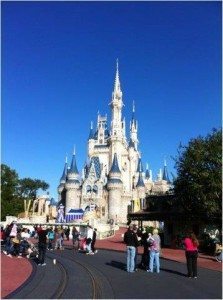 In front of us was a Disney PhotoPass photographer with a family—mom, dad, and little girl about 7 years-old. The Disney PhotoPass system is set up so Disney photographers take your pictures at various locations in the Parks, and utilize a card with a barcode that is scanned and can be used with other PhotoPass photographers in the Parks. The guest may then take their card into a PhotoPass shop, where their pictures are accessed through the card's barcode, and the guest can purchase either hard copy or electronic versions of their vacation photos to take home.
As we're watching the photographer, we're noticing something. He's engaging with the little girl. They're playing, she's laughing, and mom and dad are having a good time. They're posing, making funny faces, and overall, really enjoying themselves.
"AHA! We got it—a little wow!"
My friend and I looked at each other—AHA! We got it—a little wow! This wasn't a massive attraction the family was enjoying. It was simply getting their pictures taken…but it was much more. They were making memories. And as the start of their Magic Kingdom adventure, their day has gotten off to a great start, setting the rest of the day up as a fun family experience.
So, they'll finish their day, and on the way out, they'll pass the PhotoPass shop, and remember what a great time they had and want to go see their pictures. They'll laugh remembering how fun it was, and maybe they'll buy some. But the little wow continues its subtle impact.
The family will go home, and what will they do? They tell their friends about their great vacation and show off their pictures. They'll talk about the tremendous fun they had and recount the thousands of memories they made. And they'll want to go back Walt Disney World. And now, their friends will want to also go to Walt Disney World to make their own memories.
And it all started with a little wow.
The Why Behind the Wow
Was this PhotoPass photographer a trained entertainer? No—he was skilled at taking pictures. His job description did require interaction with the guest, but only to take their pictures and be pleasant. This Cast Member was more than pleasant. He was engaging, he was fun. His style and approach created magic for this family. In short, he created little wows.
Now, while the Walt Disney Company is in business to create magic and memories, it also needs to look at its bottom line. So what did this little wow cost the company? Zero. Zilch. Nada. Nothing. And what did Disney get out it? They may have earned the revenue off the pictures. But they also got the intangible, but very important word-of-mouth marketing. Perhaps, above everything else, though, they created brand loyalty with this family, critical, given that approximately 70% of Walt Disney World guests are repeat visitors.
I find this to be a great story about how little wows can provide big impact. But how can this work in non-entertainment companies and organizations? How can it work where the product or service may be defense or combat-related?
It works when the leader realizes they are not leading an organization, but rather, are leading people. People who thrive on motivation. People who look for direction. People who want to make a difference.
"…when the leader realizes they are not leading an organization, but rather, are leading people…"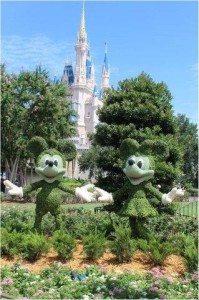 When a leader publicly acknowledges someone's achievement, that's a little wow. A leader who leaves their office and visits not just their direct reports or their direct reports' reports, but the next layer down is creating a little wow. A "pep rally" before a major project or event is a little wow. And a party to celebrate success is a little wow. A little wow can be as encompassing as praise in the company newsletter, or a personal phone call to say "well done."
A leader must be looking at their environment constantly, but not to the point where they forget about their people, whether it's employees, customers, or even suppliers. A little wow may not change the world, but it can certainly motivate, inspire, and show appreciation for those upon who we rely every day.
How did you enjoy today's post?
If you liked what you read, sign up for our frequent newsletter by clicking HERE — and you'll also receive our handy Leader's Reference List
as our free gift to you!
-##-
Photos from pixabay.com