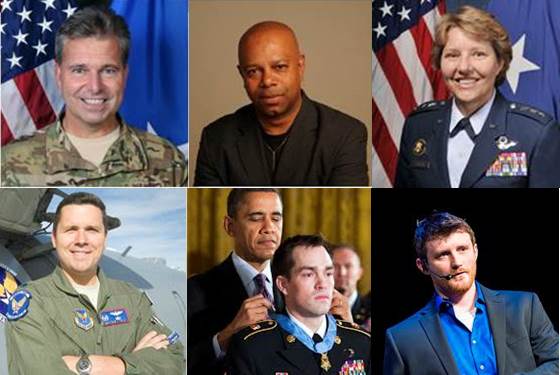 It's that exciting time of the month again when you have the opportunity to interact with us LIVE on SiriusXM Patriot Channel 125 at 9pm Eastern (8 Central, 7 Mountain, 6 Pacific) Wednesday, 4 Feb 2015.  This special "12-Talents" broadcast will feature David Webb, General John E. Michel, Colonel Matthew T. Fritz and our special guests:
Lieutenant General Michelle D. Johnson, US Air Force: Lt. Gen. Michelle D. Johnson is Superintendent, U.S. Air Force Academy,Colorado Springs, Colo. She directs a four-year regimen of military training, academics, athletic and character development programs leading to a Bachelor of Science degree and a commission as a second lieutenant. A distinguished graduate of the U.S. Air Force Academy in 1981, General Johnson completed graduate studies as a Rhodes Scholar before earning her pilot wings in 1984. She has served in various assignments in air mobility, airlift and tanker flying operations and training, academic instruction and personnel. She has commanded the 9th Air Refueling Squadron, the 97th Operations Group and the 22nd Air Refueling Wing. The general served as the Air Force aide to two presidents and commanded a deployed air refueling squadron in Operation Southern Watch and an air refueling wing in support of operations Noble Eagle, Enduring Freedom and Iraqi Freedom.
Website: http://www.USAFA.af.mil
Twitter: @USAFA_Supt
Facebook: USAFA.Official
YouTube: USAFAOfficial
Hashtag: #USAFA
Blake Miles: Former Special Forces Sergeant who served with 1st Special Forces Group in Iraq, currently the Program Director of Next Ridgeline, a Green Beret Foundation program focused on assisting military transitions to civilian life. The program was initiated by former Green Berets who recognized the need to provide assistance to comrades who each individually face a unique, stressful, and uncertain period after retirement/ separation. This program will provide much needed information that will help unlock a soldier's fullest potential after taking off the uniform.
Medal of Honor Recipient, Staff Sergeant Clinton L. Romesha, United States Army (via the Center for American Values): Staff Sergeant Clinton LaVor "Clint" Romesha received the Medal of Honor for conspicuous gallantry and intrepidity at the risk of his life above and beyond the call of duty in 2009, during the Battle of Kamdesh in eastern Afghanistan.  He has been introduced to us via the Center for American Values, whose purpose is to connect with individuals and organizations at all socio-economic levels through our programs including: Honor, Integrity, Patriotism Educational Outreach, Portraits of Valor Exhibit, On Values Speaker Series, and American Values Narratives Project.  Mission Statement: To honor the extreme sacrifices made to help sustain America's values and to ensure these extraordinary actions are preserved … forever.  Vision Statement: A source for future generations to learn and explore how doing the right thing for family, community and country will keep America great.
OFFICIAL MOH CITATION    ||     OFFICIAL NARRATIVE
Join in the conversation by tuning into SiriusXM Channel 125, following along on Twitter (#GeneralLeadership and #DavidWebb), or call in to the show by dialing 866-957-2874!
How did you enjoy today's post?
If you liked what you read, sign up for our frequent newsletter by clicking HERE — and you'll also receive our handy Leader's Reference List
as our free gift to you!