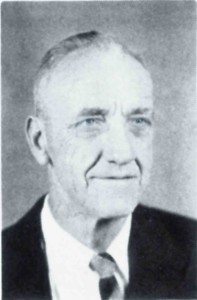 "They never have enough time for us to do it
right, but they always find the time for us to do it over."
I'm sure you have all heard this adage. Unfortunately too many of us have heard this sentiment expressed about our own organization. Worse yet, when you are the leader of such an organization, "they" is you! What I was fortunate to learn at a young age is that any job worth doing is worth doing right the first time.
The leader is responsible for planning and I learned the importance of planning early on from my work supervisor at the School of the Ozarks. Ray Stark, LtCol, US Army (Ret) [pictured to the left] was the Farm Manager and Work Supervisor and had to have extensive planning ability just to keep all forty of us on the farm crew busy every day. Ray had been an Army Engineer where he developed his leadership and planning expertise. My best friend, classmate, roommate and work mate, Leonard Hall, once asked Ray what he had done during World War II. Like most of his generation, Ray responded that he really hadn't done much, but that he did lead the Army Engineer team that assisted the US Navy in recovering a Japanese Mitsubishi "Zero" that had crash landed in the Aleutian Islands early in the War. Leonard asked Ray what instructions he had received from his boss and Ray just grinned and responded, "He said, 'Ray, don't foul this up!'" Ray must have done his share of the planning because the plane was successfully loaded aboard ship and transported to San Diego where it was repaired and then analyzed in great depth.
In 1962, this story was not well known, and I doubt whether Ray was aware of the importance of his long completed mission. Today we know that the recovery and analysis of the aircraft revealed the weakness in the "Zero" which enabled our pilots in the Pacific Theatre to defeat the "Zero" with our inferior aircraft until more capable aircraft could be developed, manufactured and fielded. Today the recovery, return, and analyses of the "Zero" is heralded as one of the most important strategic accomplishments of World War II.
You just never know!
Do It Right The First Time
At the end of my sophomore year of high school, Ray pulled Paul Goodwin and me aside and informed us that we would be leading the irrigation crew that summer. Paul and I looked at one another like two deer caught in the headlights, retrieved our lower jaws and began explaining to Ray why this was not a good idea. Not only were we high school students, but we were also the two smallest boys on the farm and there was just no way that a bunch of college men were going to listen to us let alone follow our lead. Ray assured us that they would follow our direction because, "you two boys know what you are doing and they don't." Then, he handed us a clipboard and instructed us to lay out an irrigation plan for the bean field.
Reluctantly we started designing the system and after about 30 minutes we were starting to believe that we indeed did know what we were doing. We proudly showed our plan to Ray. "Boys, this is a good plan. Now sit back down and develop a list of all the various sizes and quantities of pipes, valves, joints, reducers and plugs required for your system and then develop your load plan for the irrigation wagon, remembering that the first pipe you put on the wagon will be the last to come off." We enthusiastically began the process and by the time we finished and received Ray's approval, Paul and I were convinced that we were irrigation experts. Not only had the process bolstered our confidence, but Ray had taught us the logical sequence of planning. Ray concluded, "Now all you two need to do is explain your plan and then execute it aggressively. Don't get so involved in the work that you lose sight of your primary responsibility of supervision. Don't let any member of your crew mess it up."
And then Ray added the most profound lesson of all. "The key to gaining the respect of your crew and ensuring that they will follow you with confidence and execute your directions enthusiastically is the accuracy of your plan. Nothing will destroy their confidence in your leadership quicker than having to do the job over because you messed up the plan. Get it right the first time!"
The next morning, Ray assigned eight college men to our team and Paul and I began explaining the day's activities. True to Ray's words, they listened intently. Then we showed them the intricacies of loading irrigation equipment on the wagon and finally the layout of the irrigation system. Paul and I moved enough of the pipe to demonstrate that we could do what we were asking of them, in spite of being half their size. Again, Ray was right, they followed enthusiastically. After four hours of hard work, the pipe was laid and we turned on the pump. "PSSSST" – the sound of the air in the pipes being forced through the sprinkler nozzle and then the rewarding "CHUKA, CHUKA, CHUKA, CHUKA" as those Rain Bird sprinkler heads made their circular pattern. The sweet sounds of success, the irrigation crew had gotten it right!
About that time, Ray showed up and shared in the admiration of our accomplishment. "Good job!" he said, and then pulled Paul and me aside. "You two boys are going to learn a lot this summer, and the leadership skills you acquire leading men in hard work will serve you well for the rest of your lives.
Again, Ray was right!