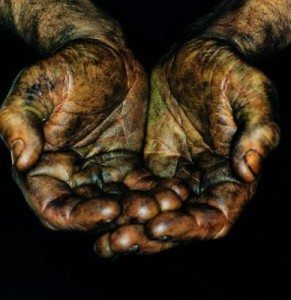 "A man's integrity is his greatest asset — without integrity, you have nothing."
Louis R. Rocco
Vietnam War
Medal of Honor Recipient
In 1989, an earthquake in Armenia flattened the entire nation and killed over thirty thousand people in under four minutes. Moments after the ground quit shaking, a father raced to an elementary school to save his son. When he arrived, he saw that the school was gone. It had been reduced to a pile of rubble. Then he remembered a promise he had made to his child, "No matter what happens, you can count on me to be there for you."
Driven by his promise, the father located the approximate area where his son's classroom had once been and started sorting through the debris. Pulling back rocks and clawing through earth, he put all his strength into the monumental effort before him. Soon, other parents arrived and started crying out for their own children. "It's too late," many told the man. "They're all dead. There's nothing you can do to help." But the father didn't stop digging; he just looked at his neighbor and said, "Are you going to help me now?"
Later, the fire chief came and told the man he had to stop, there was no one left alive and he was putting himself in danger. Again, the father simply asked, "Are you going to help me now?" After many more hours of digging the chief of police came and told him he was putting other people in danger, and ordered him to go home and leave it to the professionals. The man again said nothing but, "Are you going to help me now?"
The father refused to give up. For eight hours, then sixteen, then thirty-six long hours he dug and dug. He dug until his hands were bleeding and muscles aching, but he still refused to quit. Finally, after thirty-eight hours, he pulled aside a large rock and heard the faint whisperings of his son's voice. He called his boy's name, "Arman, Arman!" and out of the darkness a vice answered him, "Dad, it's me!" Then the boy added these priceless words, "I told the other kids not to worry. I told them if you were still alive, you'd save me. And when you saved me, they'd be saved, too. Because you promised, "No matter what happens, you can count on me to be there for you."
The lesson for all of us in this story is simple: although we cannot dictate many of the occurrences of our lives, such as when and where we are born or which hardships and trials we'll encounter, we do get to choose if we will live a life with integrity—revealing ourselves to be someone unafraid to do what's right, even if it means we have to go the rest of the journey alone.
***
Centuries ago, Aristotle pointed out to his pupils how consistently doing right actions forms our identity – integrating what we habitually choose to do into our character. Today, we use the word integrity to describe the behavior of those persons who consistently choose to do the right thing, even when doing so is tremendously difficult. That is, we view persons of integrity as individuals whose internal convictions and external actions are so well aligned, so congruent, that they do not stray from what they believe is important even when it may be expedient or personally advantageous to do so.
This practice of integrating what we say with what we do is important for many reasons. Not the least of which is building trusting relationships. However, many of us know people who have been hurt by those they trusted most. Those who have gone back on their word, claiming to say or do something they didn't.
Or, we've felt the sting of broken promises ourselves; from parents – ballgames missed, trips never taken; from spouses – marriage vows abandoned; from bosses – opportunities that never materialized.
When people's actions are inconsistent, it confuses us, it frustrates us, and, ultimately, it undermines our willingness to trust them. And without trust, developing meaningful relationships is impossible. When we fail to act with integrity in all we do, we demonstrate a lack of consistency between our beliefs and behavior; between our attitudes and our actions; and ultimately, between our values and our practices that leave people questioning if we are, in fact, someone others can really count on.
So please remember, to have integrity is to be integrated, to be whole, to have it all together and in above all, to be consistent in our words and our ways. It's an expressed commitment not to live one life in private and another in public but rather, to possess the strength of character to withstand the temptation to take the path of least resistance and be there when others need us most.