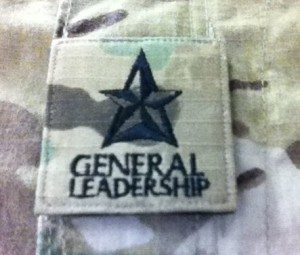 It is the responsibility of every employee to report back to his or her supervisors what they have learned and allow the organization to benefit from that experience. As military members, we work for the American taxpayer. It is our responsibility to generously share our lessons-learned and maximize opportunities to create mutually beneficial conversations.
We created The General Leadership Foundation to facilitate connection between you and America's most trusted leaders in order to promote growth and learning. We believe leadership is a choice, experience promotes growth and our individual example is the most powerful tool we possess to influence positive change.
Last year, the Chairman of the Joint Chiefs of Staff levied on us the task "to discuss who we are and what our wars mean to us." He put the onus on military leaders to learn "how to connect the warrior to the citizen" and to not only tell our stories but to listen to the different perspectives of our fellow citizens and learn from them in return. We are fulfilling this noble calling by connecting our authors,who each possess one certification which can not be purchased in the business world, successful military command. As proven leaders in peace and war, we consider it a privilege and  responsibility to share what we have learned serving our nation across the globe.
Fundamental to being an American is service…service to family, to community, to country. This is what drives people to the military; our recruiters have counted on this motivation to supply our all-volunteer force for over 40 years. But we must realize the military does not hold a monopoly on service or sacrifice. Across our nation, the desire to contribute permeates every aspect of our country. This drive can be found in police officers, fire fighters, coaches, pastors, peer-mentors and thousands of others who serve their communities each day. Our desire at The General Leadership Foundation is to interweave the universal principles of leadership in our conversations with you–one opportunity at a time.
Looking to the future, it is our quest and commitment to do all we can to cross career-field cultural boundaries and learn from each other. Like you, we are citizens who share a common desire to do our part to seed a better tomorrow. We recognize yesterday may have brought us to today, but we must learn from our experience in order to make that better tomorrow a reality.
Effective immediately, The General Leadership Foundation is launching new venues, new interactions, in a quest to be one of the top leadership sites on the web by the end of 2014. As the Chief Growth Officer for The General Leadership Foundation, it is my responsibility to increase our footprint, our interaction, and our influence. To launch this afterburner climb, we are undertaking five new venues:
Leadership Articles – Growing to daily publications by the end of this year
As we build our leadership-author stable, we will increase from the current publication of two articles per week to more frequent offering. Our promise to you is to establish a daily article publication by the end of 2014.
We are all busy…and I have a very short Fighter-Pilot attention span. 30 precious minutes to glean the few nuggets of knowledge buried in the presentation is a lot to ask. With this in mind, we will only ask for 3 minutes and 20 seconds of your time…a 200-second soundbite. These audio podcasts and video spotlights will be posted alongside our written articles and will allow you to join us in written, audio and video format…whichever you choose. The Podcast are also available for download on iTunes. These unique venues open options for you to hear and learn from our authors in a format that serves your preference.
On the second Thursday of each month, our General Leadership host will lead an interactive webinar with a special guest via Google Hangouts under the hashtag #LeadChat. These thirty minutes will be a discussion on a specific leadership topic, then the forum will open the interaction to those connecting world-wide.
On the third Thursday of each month, our team will engage in a Twitter TweetChat for one hour under the hashtag #GenLead. This is a fast-paced Twitter conversation focused on a specific aspect of leadership.
Overcoming the boundaries between the military community and society requires a deliberate effort to open our world. It is tempting to stay on our military bases, live in military communities and only talk to those we know. For the curators of The General Leadership Foundation, it is our mission to bring the experiences, principles and stories amassed through war and military life to the public. On the other side of this motivation, we want to learn from you, to garner your leadership principles and lessons from the non-military world. It is our belief leadership is a universal skill-set…and is defined by results, not attributes.
Thank you for your interest in The General Leadership Foundation. Please register to enjoy our future publications and growth. We look forward to interacting with you.
How did you enjoy today's post?
If you liked what you read, sign up for our frequent newsletter by clicking HERE — and you'll also receive our handy Leader's Reference List
as our free gift to you!