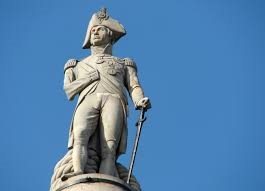 "Discovery consists of seeing what everybody has seen and thinking what nobody has thought."
Albert von Szent-Gyorgy
Lord Horatio Nelson was considered a brave and innovative leader who was entrusted with the main British battle fleet at the beginning of the seventeenth century. At a time when a nation's military might and worldly prestige was largely measured by the strength of its navy, the widely respected admiral was charged with finding and destroying Britain's chief rivals, the combined Spanish and French battle fleets.
This was no small task by any measure, as both nations possessed impressive capabilities and an equally strong desire to dominate the seas. Nonetheless, Lord Nelson and his twenty-seven-ship armada set sail in search of their adversary in the summer of 1805. Departing English waters in the direction of the West Indies, they located their enemy several weeks later off the coast of Spain. What was to ensue, known today as the Battle of Trafalgar, changed the course of naval history forever.
During this particular time, traditional naval battles were conducted by engaging ships in a "line of battle." This tactic prescribed that ships sail parallel to one another, exchanging fire broadside along the way, often at very close range. At times, the vessels engaged in combat would draw so close together that hand-to-hand combat ensued between the crews. This approach to naval warfare was highly predictable and, as a result, very controllable. The comfort of closely following tradition and scripting the conditions of battle provided the captains and their crews with a perceived sense of security.
Familiarity was preferred to adaptability, conformity to ingenuity; mediocrity to imagination.
Lord Nelson, however, was an unconventional leader who understood that blindly following this expected approach left him and his fleet with some very real disadvantages. Most notably, in addition to the Spanish and French possessing numerical superiority (thirty-three vessels to his twenty-seven), their ships were also heavier and carried larger guns than the British vessels. This made it possible for them to deliver more "weight of metal," which was the amount of firepower one ship could bring to bear on another as they sailed alongside their opponent.
Of course, the English ships had unique strengths of their own, which Lord Nelson believed, if properly leveraged, could help him and his crews achieve an unlikely victory. In particular, he recognized that British vessels were not only lighter but were led by more highly skilled sailors than those of their adversary. Additionally, he recognized his men were more disciplined and his gun crews better trained which, when taken together, translated into their being able to fire more rapidly and more accurately than their rivals' ships.
Despite these very real advantages, Lord Nelson recognized the tightly scripted method of warfare would work solidly against them. Thus, to succeed in battle, he and his men would have to change the rules of the game, willfully deviating from what was widely accepted in order to try something no one had ever tried before.
And that's exactly what they did.
Charting a Path to Victory
The day before the battle, Lord Nelson convened a meeting with all his ship captains and proposed a bold, creative plan of attack. Instead of attacking in the traditional "line of battle" the enemy expected, the British fleet would attempt the unthinkable. They would attack perpendicularly to the enemy's line.
It was a radical idea fraught with both peril and possibilities.
Although this surprising move clearly exposed his vessels to the enemy's superior firepower for a short period of time, it also provided an opportunity to change the rules of engagement in their favor. This allowed them to break down the enemy's planned battle formation into a smaller series of ship-to-ship skirmishes that would leverage the British navy's greatest strengths: superior maneuverability and higher rate of fire.
During the pre-battle meeting aboard the admiral's flagship, HMS Victory, Lord Nelson was careful to discuss the plan in detail, soliciting ideas and input from his captains on how to best synchronize the events of the following day. Recognizing that once the battle started there would be little to no chance for communication between the leaders of the various British vessels, the group worked through the counterintuitive tactics and procedures they would employ to pull off this bold action. Every member of Lord Nelson's armada clearly understood that the only way they could achieve victory was for every person to set aside their fear of change and give full measure of their unique strengths to the collective effort at hand.
On the day of the battle, the British plan went off as expected. The French and Spanish ships were so confused by their foe's strange tactics that they did not quite know how to respond. And while most of the English vessels suffered some damage during the battle and Lord Nelson himself was killed, not a single British ship was lost. Conversely, the combined French and Spanish fleet lost some twenty vessels to capture, explosion, fire, or scuttling.
The result of the now famous Battle of Trafalgar proved a major victory for the British forces that forever changed the way future naval engagements would be fought. And it was all made possible because of a leader who was willing able to overcome the allure of sticking with the status quo and develop an innovative solution to a perplexing problem. A leader whose selfless actions two-hundred years ago teaches us even today that we are at our best when we choose to see change as an opportunity, not as an obstacle; to recognize it as a potential friend rather than a foe.
So which old tactics are you using in your organization that might be holding you back from achieving something truly remarkable.