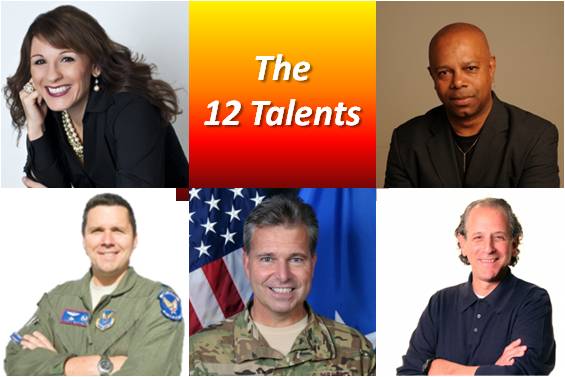 Join us tonight — LIVE — at 9pm Eastern (6pm Pacific) on SiriusXM Patriot Channel 125 & the David Webb Show! Tonight we will be debuting "The 12 Talents" with the first in a new series which will take us through this year.
Join us on the air by calling into the show at 866-957-2874. You can also follow along on Twitter @GenLeadBlog and @davidwebbshow with hashtags: #GeneralLeadership #12Talents. We look forward to sharing with you!
Our lineup of exciting guests tonight include:
Angela Maiers

Whether she is addressing an auditorium full of educators or sitting on the floor helping first graders find their way into the pages of a great book, Angela Maiers' message is the same. Education changes lives. As a teacher, author , blogger and social media consultant, Angela has spent the past twenty-two years working diligently to help learners of all ages succeed by recognizing their power as readers, writers, and global communicators. Angela earned a Bachelor of Science in Education and a minor in Biology from the University of Iowa and completed her graduate and post graduate work at Drake University in Des Moines, Iowa. As owner and lead consultant at Maiers Educational Services, her passion for literacy and technology to discover creative ways to assist schools and organizations in meeting their learning and productivity goals. When she is not at home in Clive, Iowa, spending time with her husband and two teenage children, you will find her on blog Angelamaiers.com.

Jay S. Levin

Jay has over 30 years of international executive management, consulting and performance coaching experience. He has worked worldwide with well over 10,000 people to accelerate work performance and career advancement. Jay focuses on 3 dimensions of improvement acceleration: organizational structure, systems and processes; how key people effectively adapt behavior to accomplish their objectives, & perception management.  His methods embody lean, agile, short cycle "assess & adapt" iterate processes. To understand his unique approach – think Scrum Project Lead meets COO meets CMO meets PR brand manager. The impact drives measureable results. Expands work footprint. Extends influential reach. Heightens visibility. His design is simple and direct; find those precise core problems causing ineffective functioning and correct them.