Nothing is as strong as the heart of a volunteer.
-Jimmy Doolittle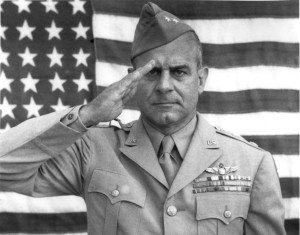 There may be situations in military leadership where the leader must keep the team in the dark–but in 27 years service and commanding five units I've never found one. On the contrary, the question asked most often by military leaders and those they lead is, "Did you coordinate that?" You see, military operations are a team sport and our patience with people who act without considering the team is thin. We have to trust each other, and trust is built on mutual respect and transparency.
Military Teams Work In A Collective Environment
Keeping the team informed removes the leader as a single point of failure and takes advantage of the collective intelligence of the team. Leaders can't be the only one who has the whole picture–the goals of any military operation have to be shared as widely as possible. If everyone understands where the commander is taking them, they're much more likely to make better decisions on their own. That's why senior military leaders spend a great deal of time before any major operation establishing clear lines of authority and command. They also put significant brainpower into writing a "Commander's Intent" statement describing the goals and decision parameters for subordinate commands. By understanding command relationships and the commander's intent, then "teams of teams" can function across space and time as a single unit, making thousands of independent decisions all focused on a single goal.
In combat, military teams don't have the luxury of perfect communication or knowledge of each others' movements. Furthermore, the enemy and Mother Nature each get a "vote" on how well the operation will go. If people rely solely on the leader to make all the decisions then chaos close at hand. The best military leaders set the conditions for success and make sure to pass along as much information as possible. The point is to help others make good decisions, not have "the" leader make them all.
"Team" Isn't Just a Military Term
The military isn't the only "team sport" however; so is business. Keeping your employees informed of decisions big and small, and making sure they all understand the goals, boundaries, and limitations of a particular task or enterprise is key. Doing so enables them to make the same decisions you'd make if you were there. Nordstrom is famous for their customer service focus, and employees are empowered to make decisions on behalf of their leaders to live up to that reputation. Keeping the team informed works in small companies, too. If everyone has the "big picture" then anyone on the team can make the right decision all the time.
Keeping the team informed effectively makes the leader "present" at every decision. Likewise, the same is true for suppliers and customers. An effective relationship with both should feel like a partnership rather than a transaction. That's a major reason successful companies elicit and take seriously customer feedback, and it's the reason inviting suppliers into the "circle of trust" makes for successful partnerships. One of my favorite TV shows is HGTV's Fixer Upper, in part because I'm inspired by hosts Chip and Joanna Gaines' entrepreneurial spirit. As the interior designer, Joanna maintains a close working relationship with her suppliers–who seem to feel more like family than business associates. The result of working hard at maintaining those relationships is a collaboration where each team member adds value. Sometimes those teammates surprise Joanna with something she didn't even know she wanted until she saw it!
Building trust and helping the team members make sound decisions are two good reasons for keeping everyone informed. Successful leaders know how to communicate internally as well as to their customers, and when they do they get a big voice indeed!
How did you enjoy today's post?
If you liked what you read, sign up for our frequent newsletter by clicking HERE — and you'll also receive our handy Leader's Reference List
as our free gift to you!