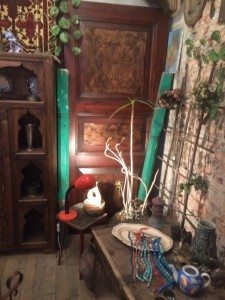 In today's world of mass production and one-stop shopping, the artistry of being a craftsman is harder to find than ever. Recently, I met a craftsman who taught me more than how to build tables.
It was a quaint little shop in Ulus Turkey. Hardly room to move inside. Off the beaten path, but in a beautiful little town where my wife and I enjoyed having lunch and strolling though the local shops enjoying the culture of a town that time seemed to forget. He was a woodworker who always carried a small spiral notebook. His shop was full of amazing creations, combining antique with his unique handicraft. But not a price tag could be found. His art was in taking antique doors and crafting them into tables. Dining tables, coffee tables, end tables…anything you could desire. In the true style of an American shopper, I began asking how much. He replied, "we will discuss that later."
He opened his notebook and began to sketch. First, the antique door we chose. Then the frame which you could tell he clearly saw in his mind. Next, the legs. Within minutes, a work of art emerged and a smile spread across his face. I again asked how much and he, again, replied "not yet." We added measurements to the drawing and he made slight modifications in the plans until we were both happy with how the final product would look. Finally, he gave me a price. One which was incredibly fair and reasonable. Further, he said that if we did not love the custom designed and built table when he delivered it, then we would not pay and he would be glad to return it to his shop because he was confident enough in this handiwork that he would have no problem selling it to someone else.
Two weeks later, he delivered our new custom, handmade dining room table. I tried to pay first thing, but he said, "not yet." He assembled the table, polished the wood and cleaned the glass. We sat for an hour and shared stories over a glass of tea. As he prepared to leave he said,
"Now that I know you are happy with the product, we must do the part I do not care for, dealing with money.
We know the monetary exchange must occur, as I need to take care of my family. But money is not the important part. You being happy with the product of my craft and my joy in completing another project which I love is most important."
It was in these words, I found the definition of successfully achieving wealth. Earning enough money to make money not an issue. This does not mean being rich. It does not have an amount associated with it as successful people live in all income brackets. It does mean living within your means and having a little left over to enjoy life. The goal of your work should not be merely to earn a living, but to make a life. Wealth is the second leg of the Tripod of Success.
Success is earning enough money to make money not an issue.
Thanks for your time and devotion to self-improvement. Let's keep the conversation going.
#TripodofSuccess
How did you enjoy today's post?
If you liked what you read, sign up for our frequent newsletter by clicking HERE — and you'll also receive our handy Leader's Reference List