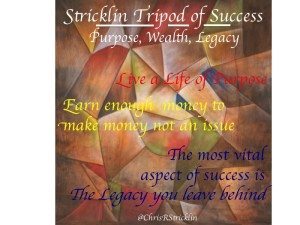 Stop.
Take 30 seconds and state your definition of success—out loud.
Don't think, just let your natural definition flow then continue the statement with how you measure success.
Have you ever taken the time to determine your personal definition of success? Ironically enough, few of us have devoted the time to personally define the single thing which we design our lives around. Now, many of you consider yourself more focused on happiness than success. It is my belief, when defined correctly, happiness and success are one and the same.
After years of climbing the corporate ladder, running the rat race, going somewhere and reaching for the stars, I asked myself this simple question…how do I define success?… Read the rest